Finally we had some snow – lots of people really dislike it as it hugely disrupts commuting and other activities but it did make for some pretty pictures and some very happy foreign students taking pictures of themselves standing in the snow and making little snowmen.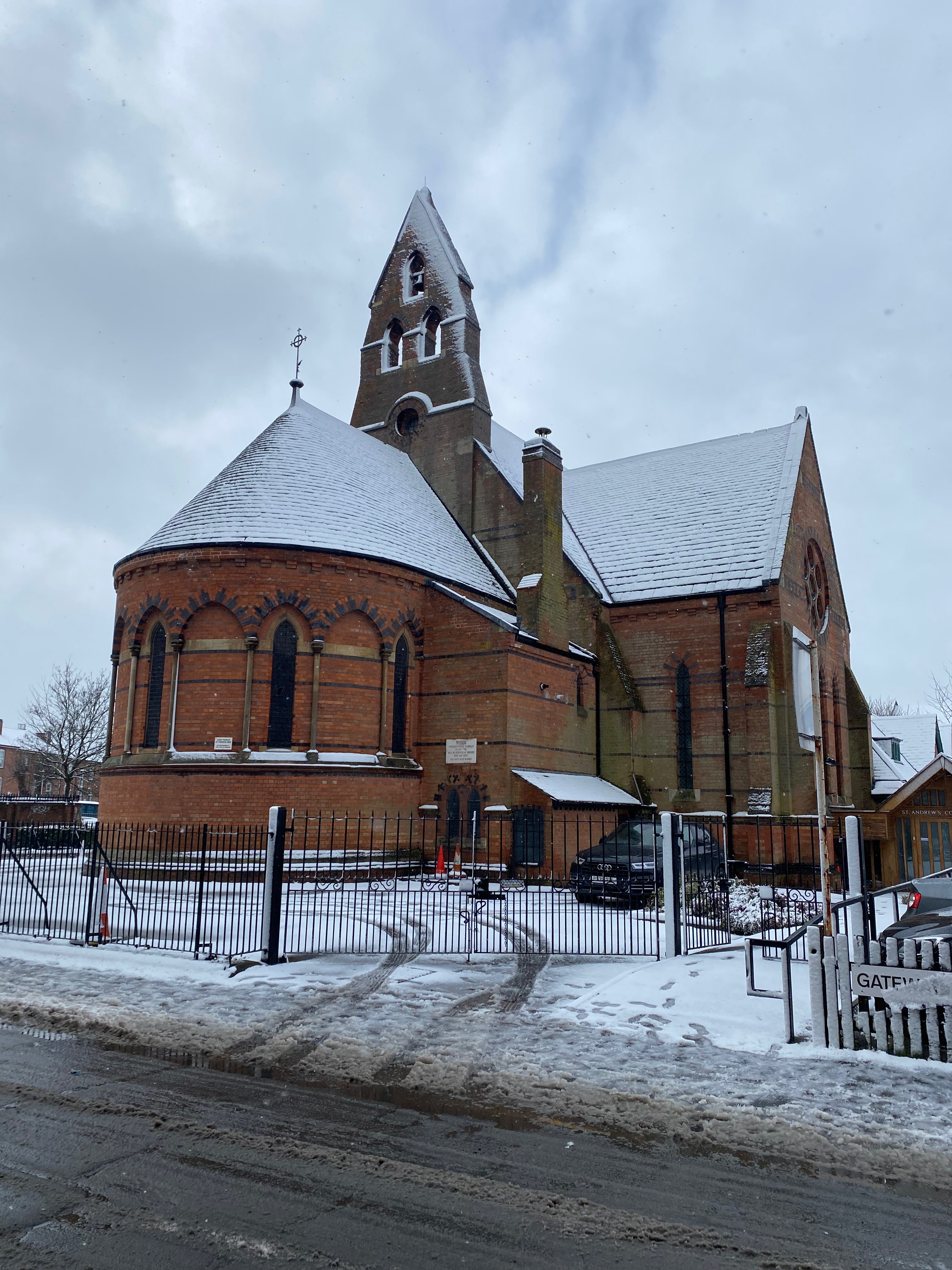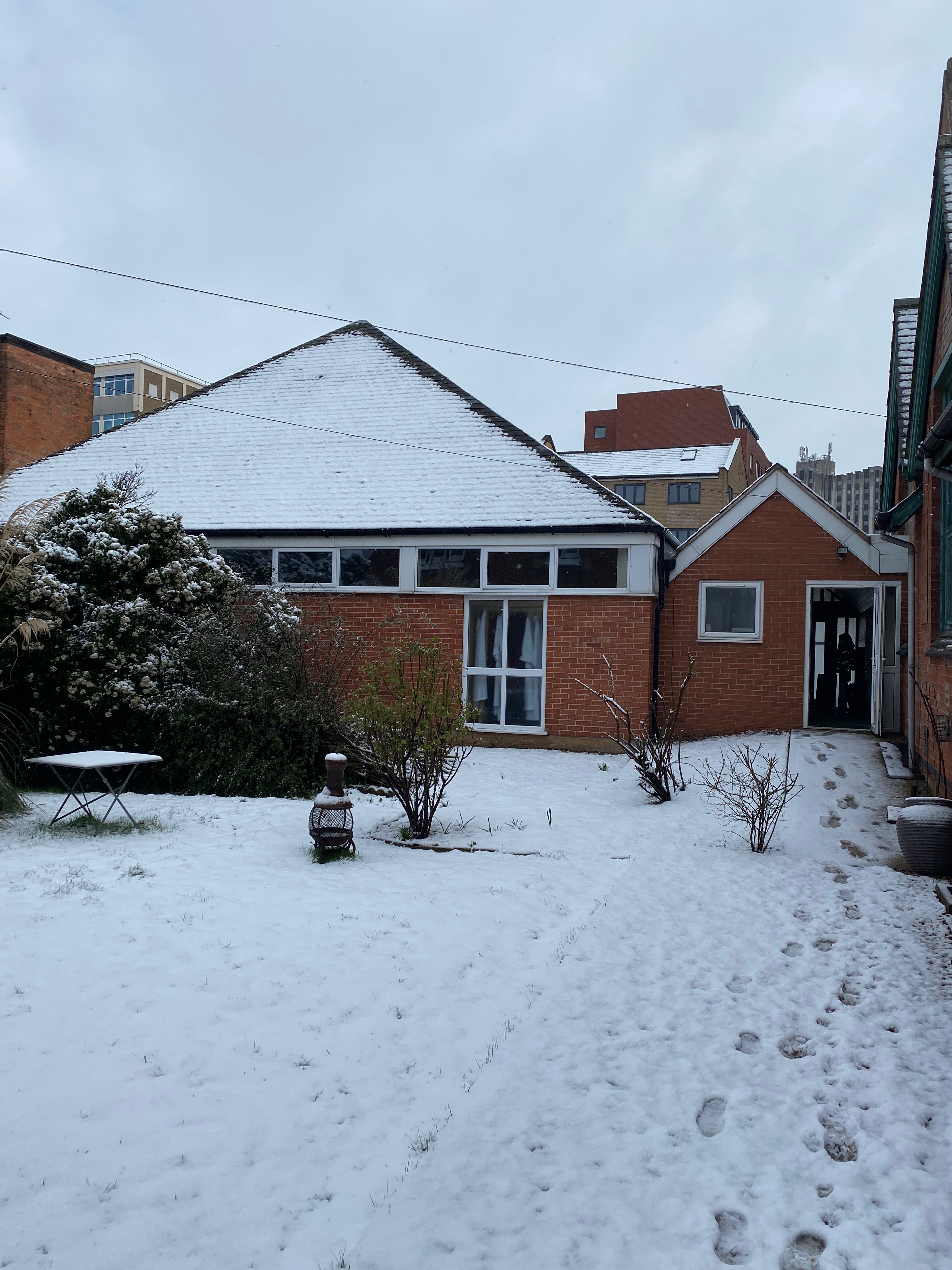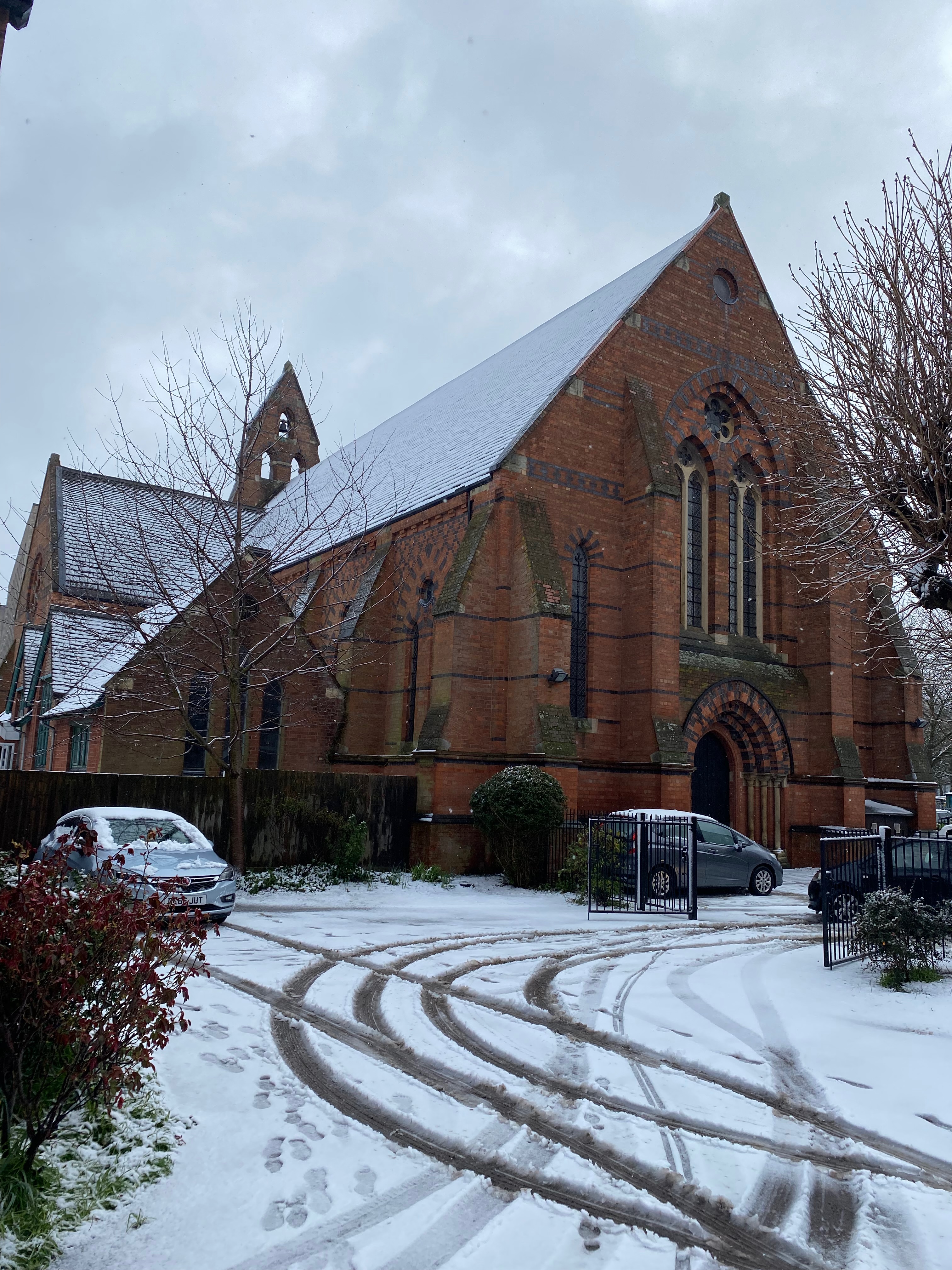 Laetare – Mothering Sunday
The 4th Sunday of Lent traditionally offers some respite before diving into the more severe period of Passiontide from the 5th Sunday of Lent onwards. It's known as Laetare Sunday (be joyful!) and in this country coincides with Mothering Sunday. Hence the liturgical colour is a mix of purple and white – rose. It's a much cherished opportunity to use the somewhat pink chasuble and enjoy various social media post of churches featuring people wearing pink trousers, dresses, shirts and ties for the day.
On Sunday Fr Barry will take the 2nd part of our Lenten mini-sermon series about 'Liturgy for the Perplexed.'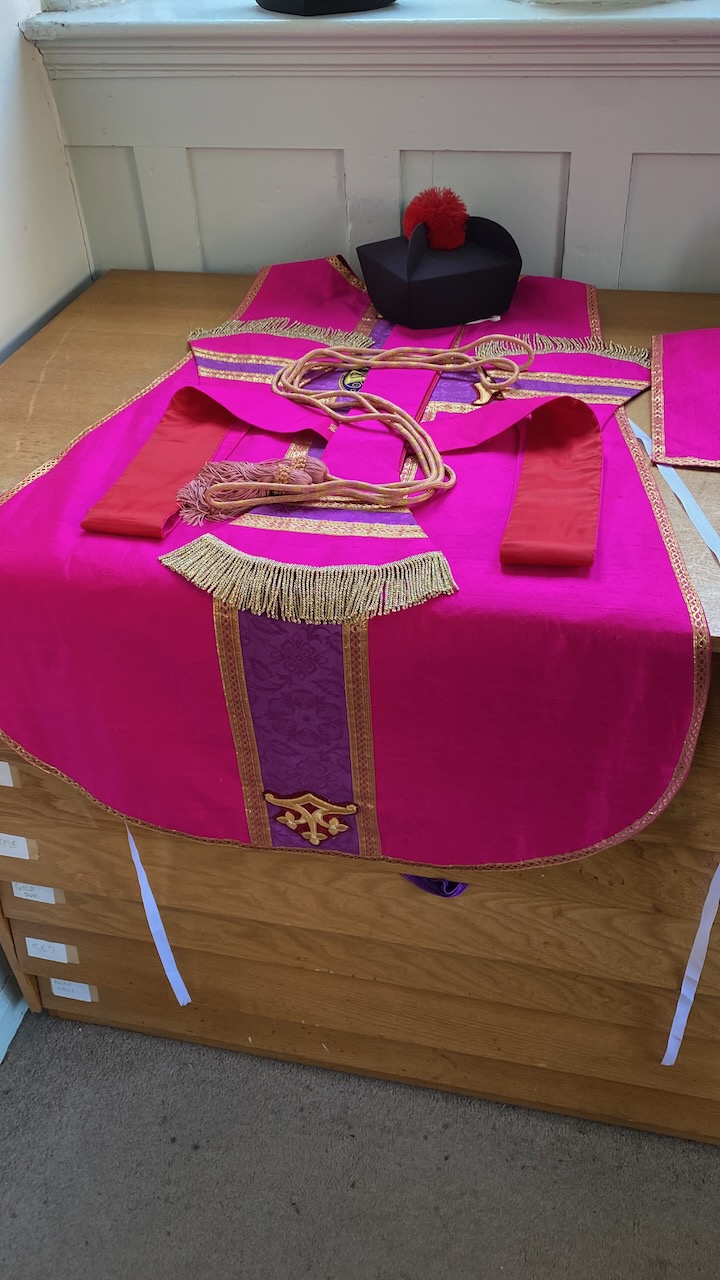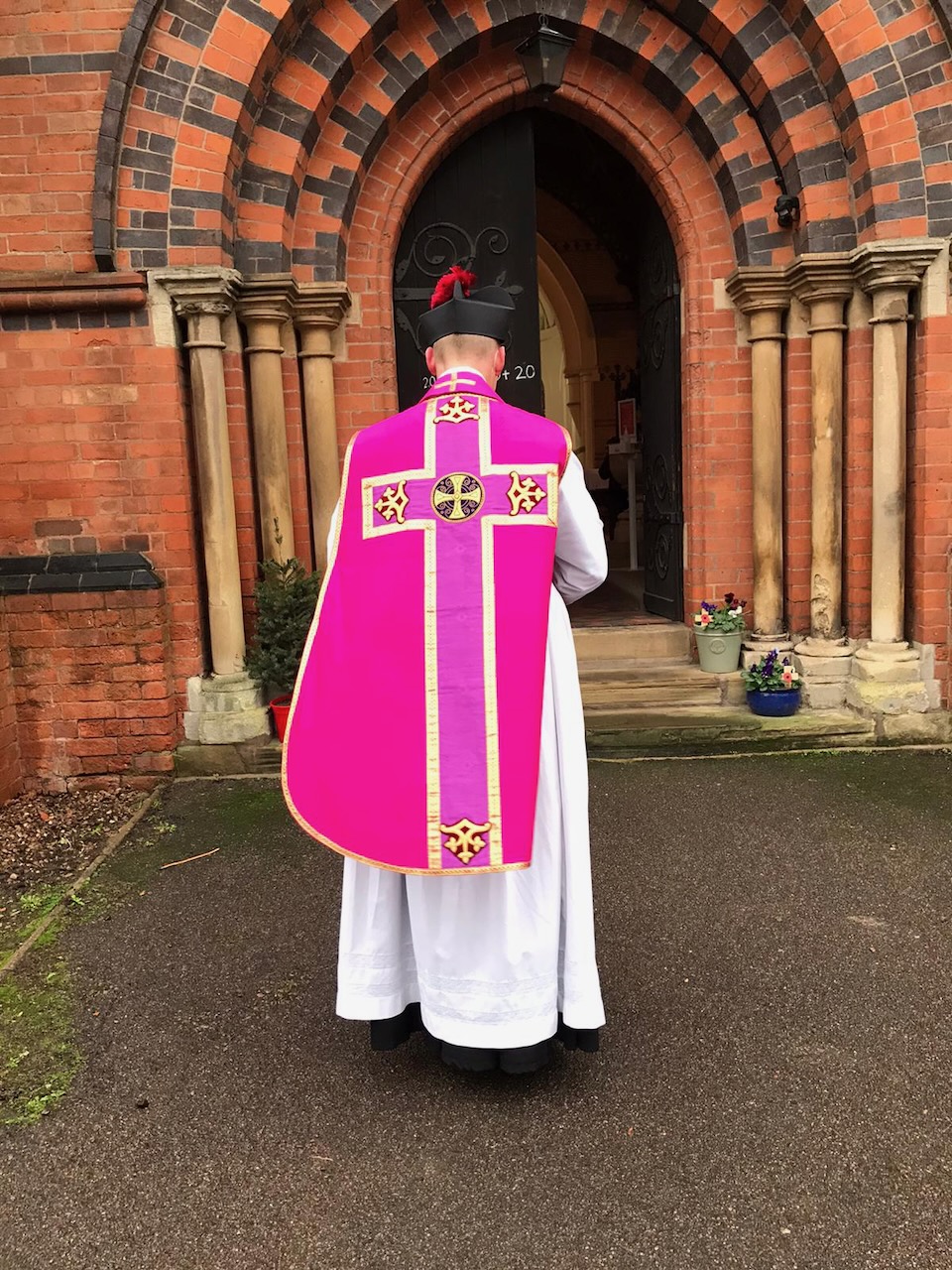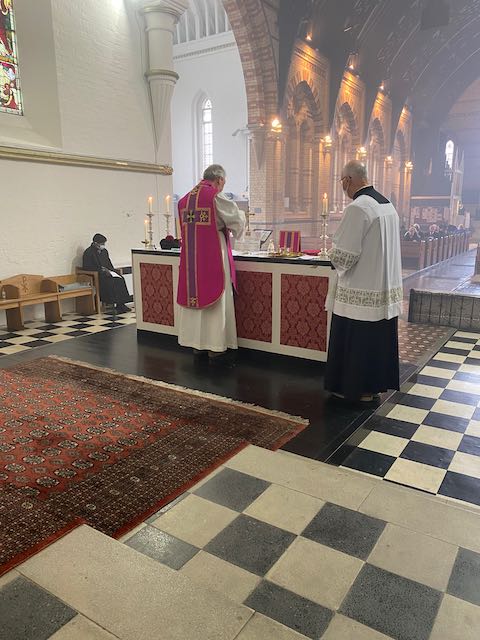 Community Meal, Wednesday 19th April, 7pm
There are new faces all the time and getting to know each other takes some effort and time. As usual, doing stuff together makes things easier than just sitting together and talking – in contrast just talking can be a bit awkward (we are English after all! 😁). On this occasion we do very simple Indian food and please bring your own drinks – water will be provided.
You can buy your tickets from Sam Thobiyas or from me – they come at the highly competitive price of £1 (seriously!). Children eat free.
If you would be able and willing to help with setting up and tidying up please talk to me – help would be most welcome.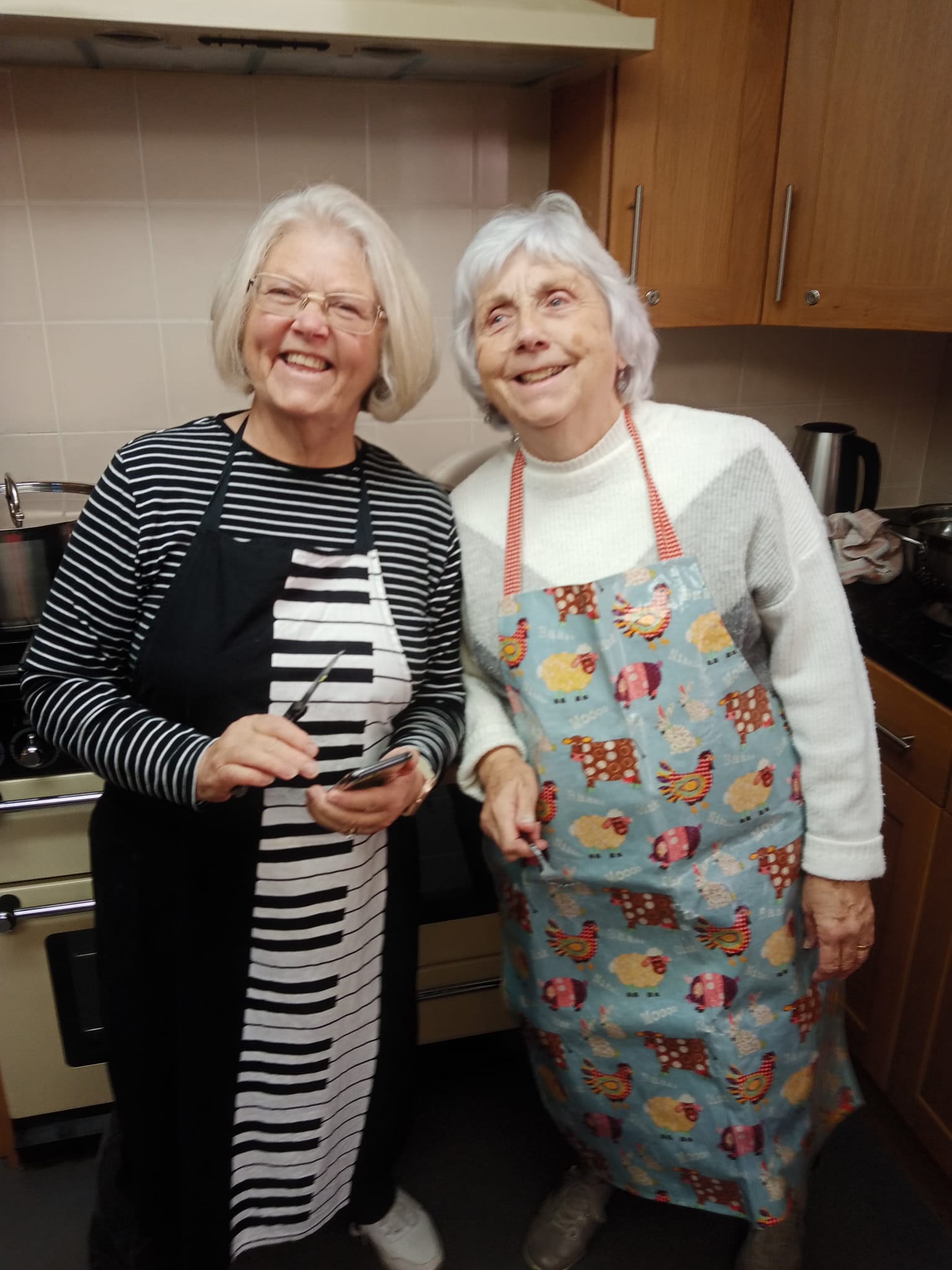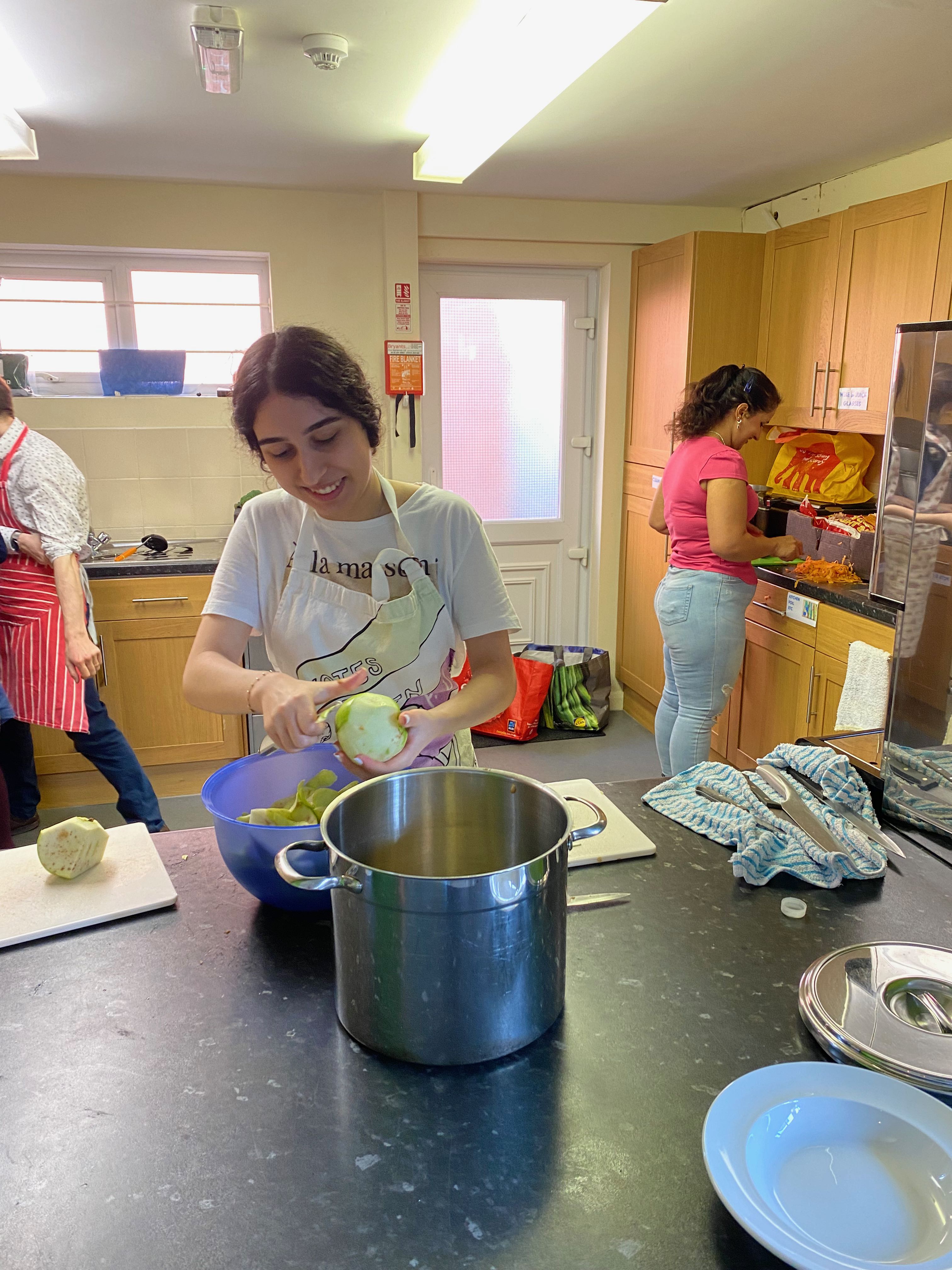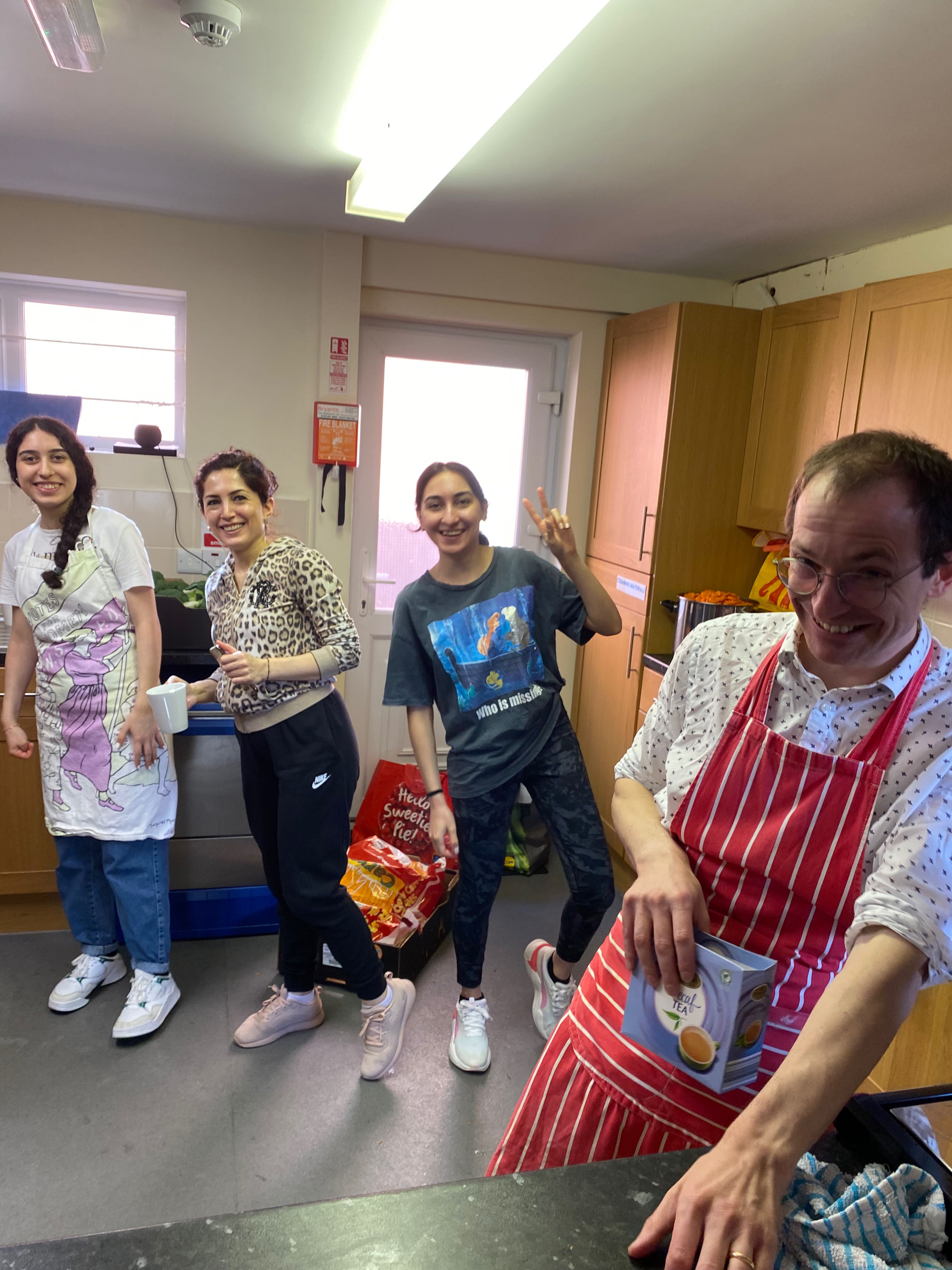 Parish Room, Peace Garden, Builders, dirt and Easter joy
Whilst I am writing this the scaffolding is going up inside the Parish Room which will provide access to the roof. The work is progressing well: the future storage room and the accessible toilet have been plastered and the concrete floor is in. It is now easier to imagine what the finished spaces will look like. The photos are not that exciting, but I am delighted about this project coming together after such a long preparation period.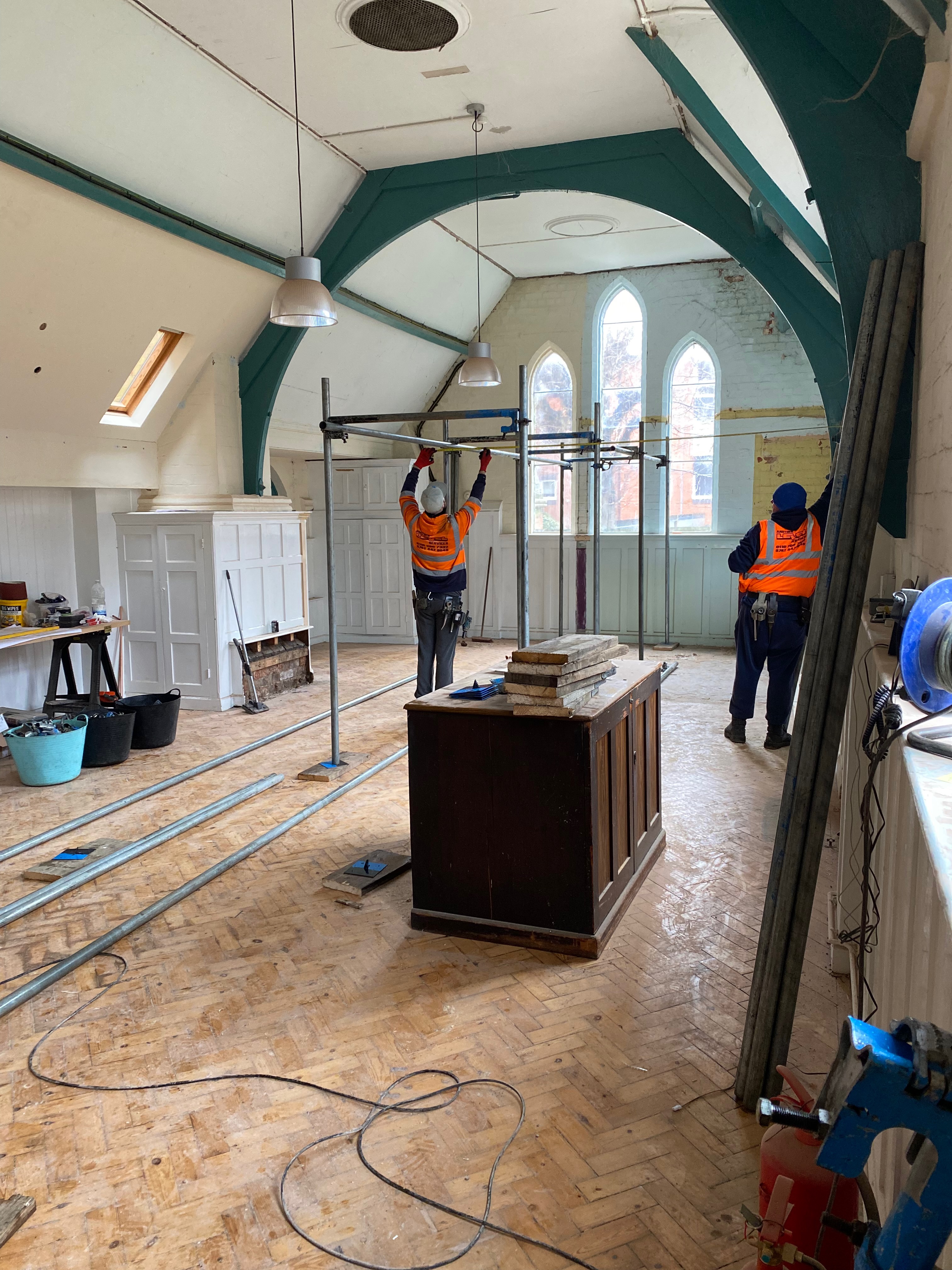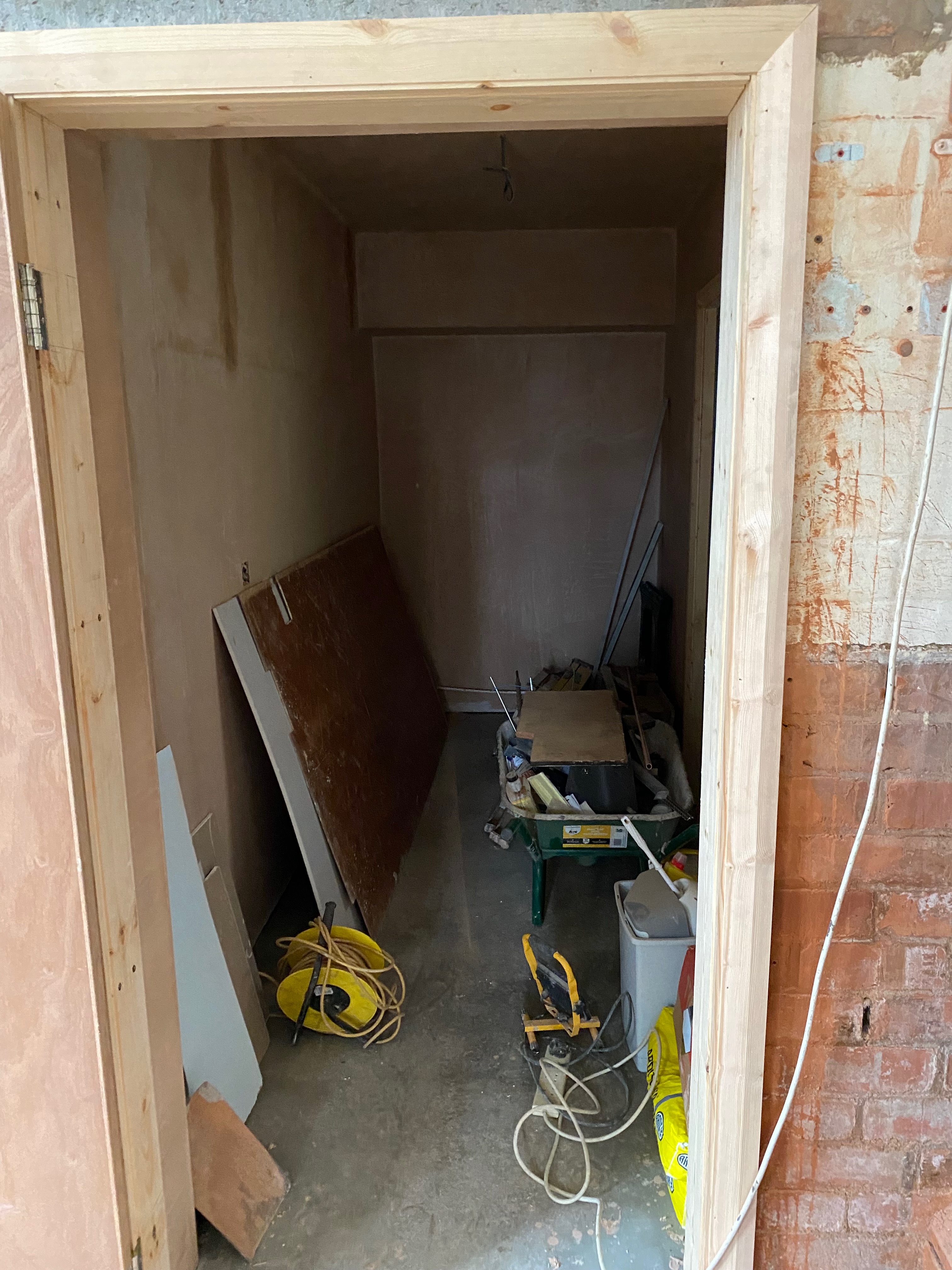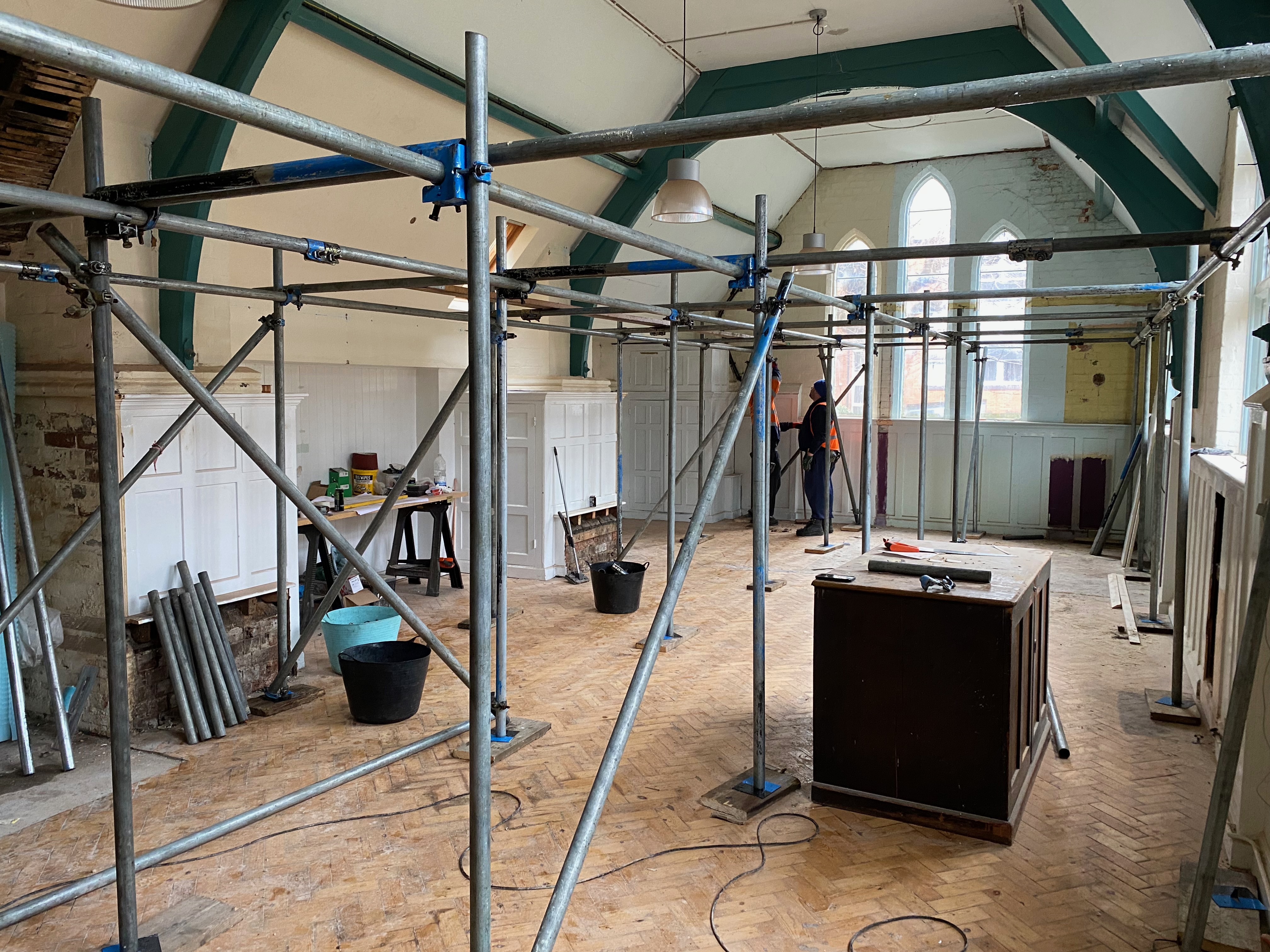 All of this causes lots of dirt – which is completely unavoidable and a sign of progress. However – Easter is coming soon and it would be delightful if the church reflected the beauty of God as well as possible on the greatest feast of the year.
Similarly, the Peace Garden has been a huge asset for the past 2 years and it has been a joy to be there. Would you like to help taking it back into shape? Could you donate some plants or some hanging baskets when we are out of the frosty period? Would you happen to have any spare garden tools? Please have a word with Tony.
We are meeting on the coming Saturday 18th March from 9.15am to 11.15am to do some work both in the church and in the Peace Garden. Could you join us? We are also going to meet again on Saturday 1st April at the same time. Your company and help would be most welcome! And again – doing things together is the very best and easiest way of getting to know people.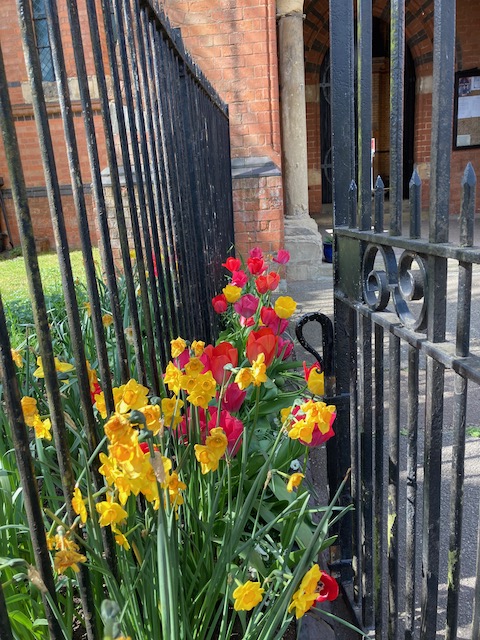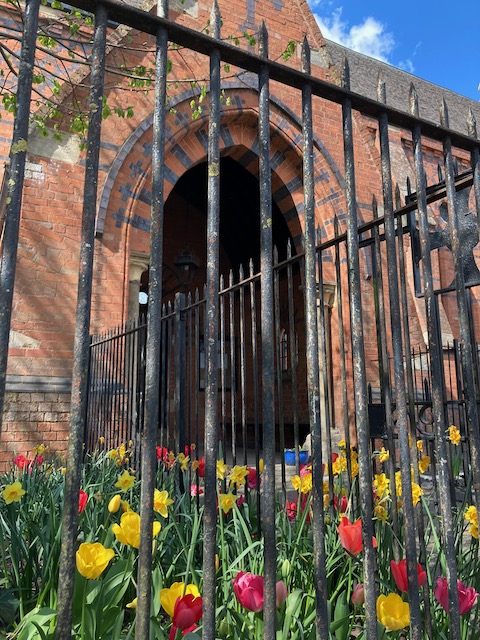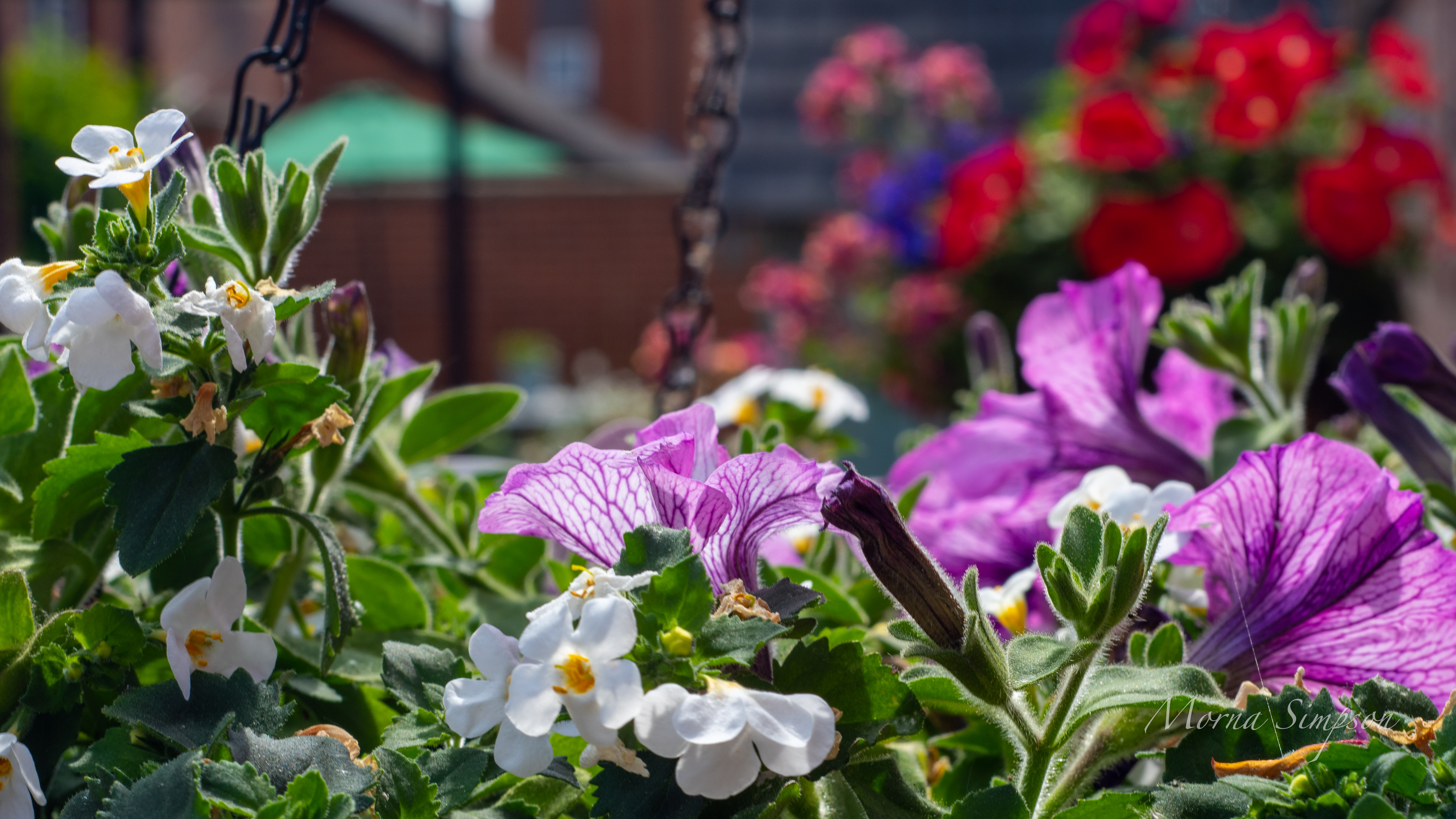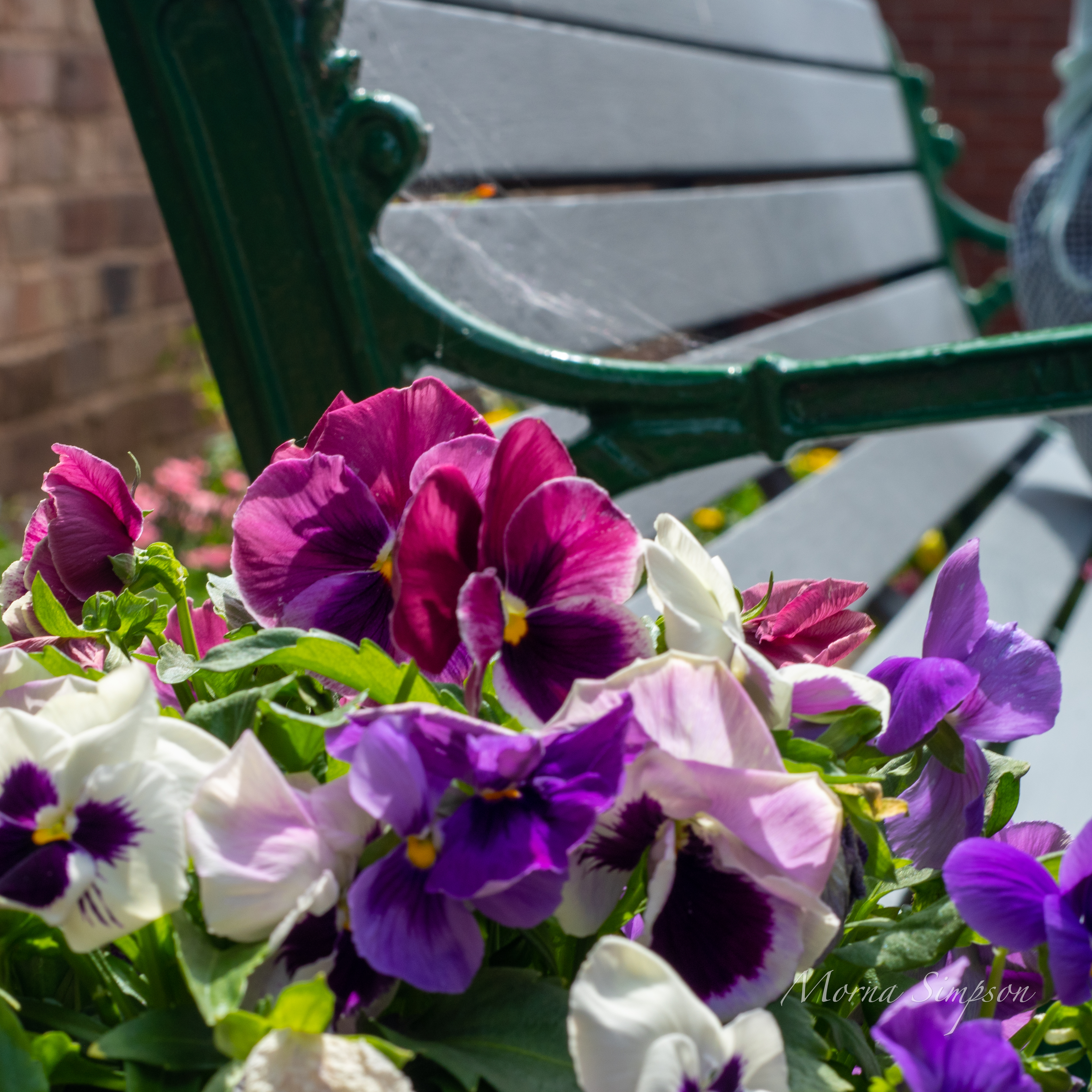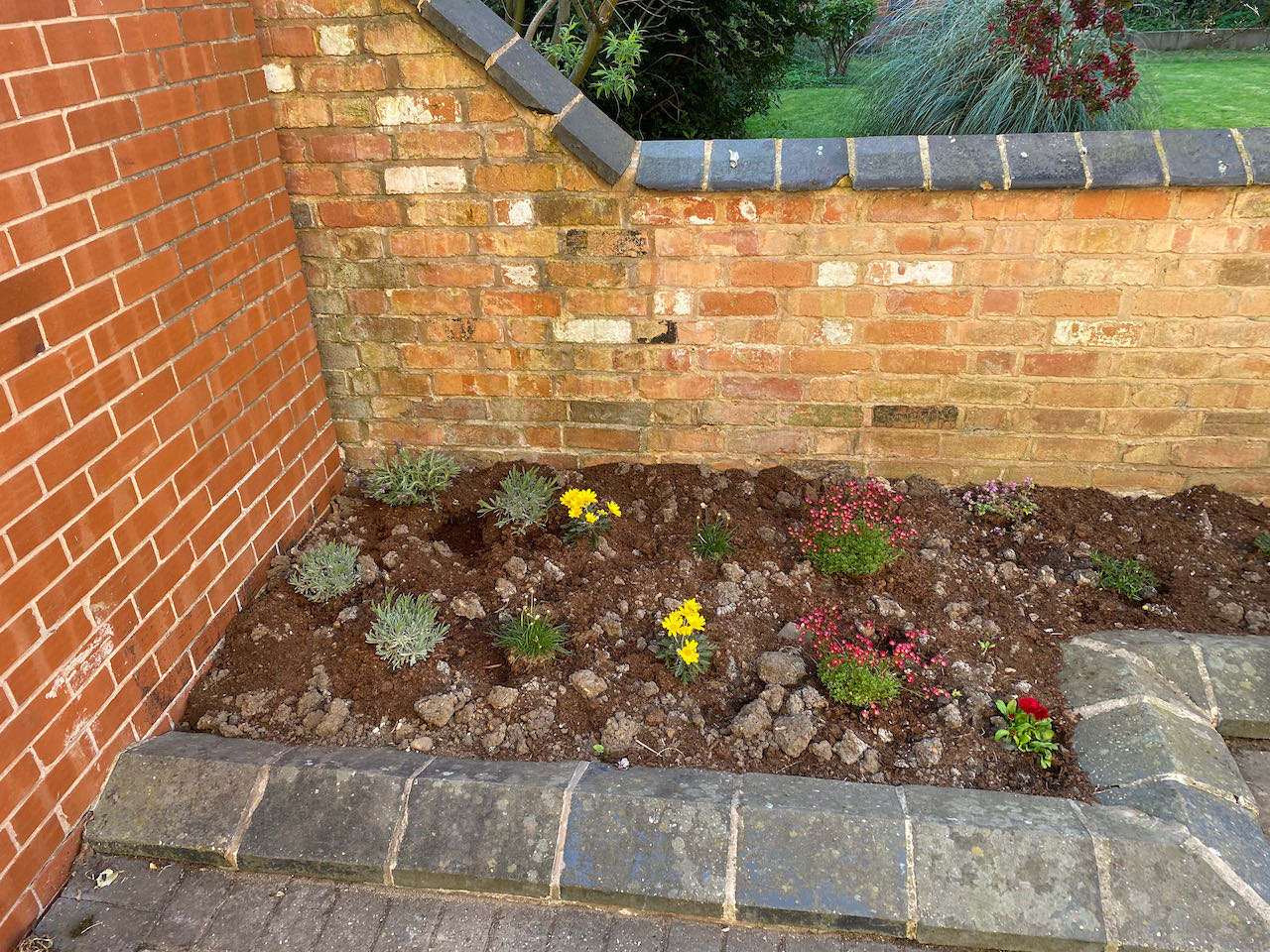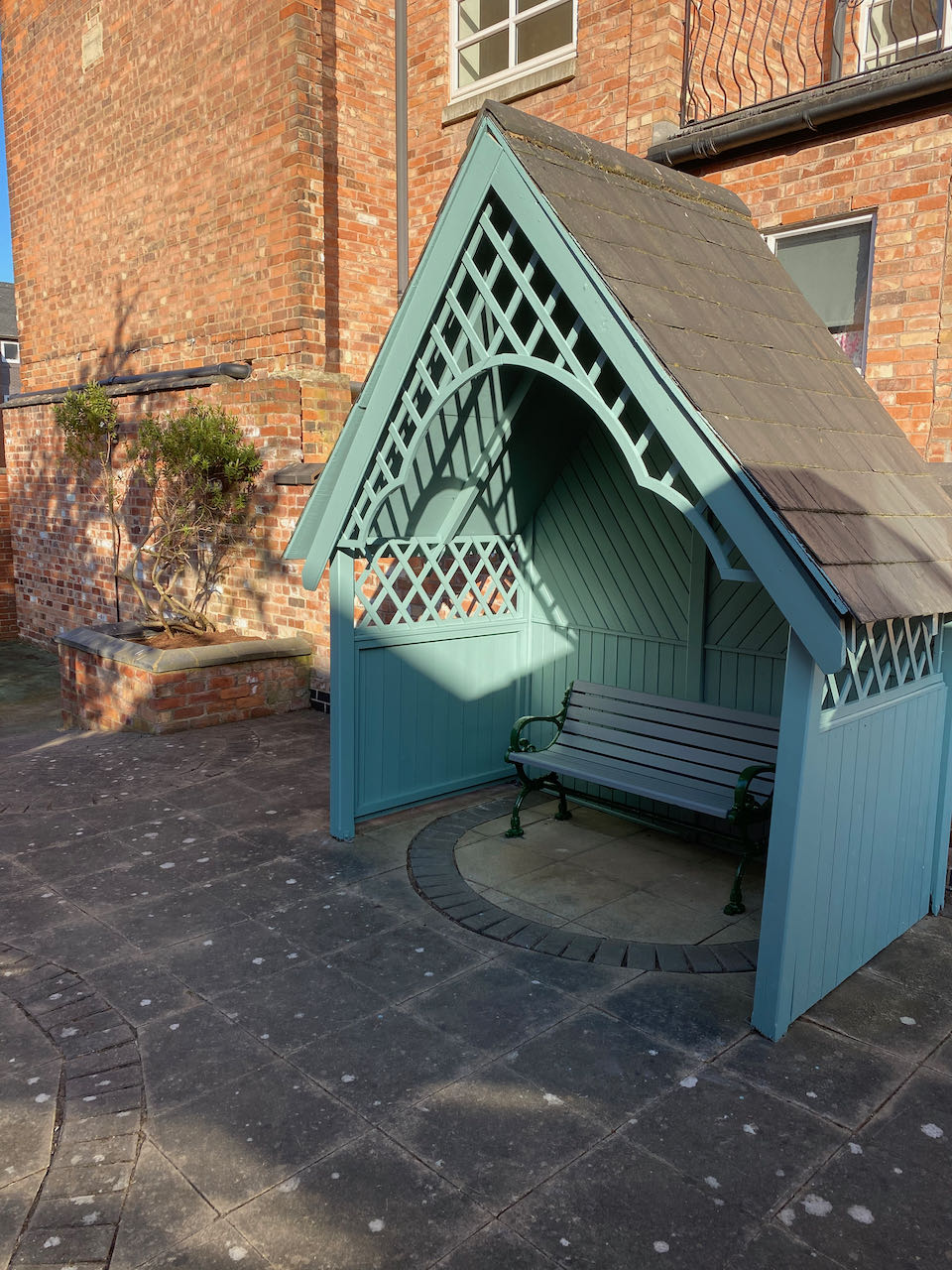 Easter Lilies and other flowers
As every year it would be lovely if people were going to sponsor some of the Easter flowers in memory of a loved one. Special envelopes marked 'Easter Flowers' will be on the Welcomers' table from Sunday.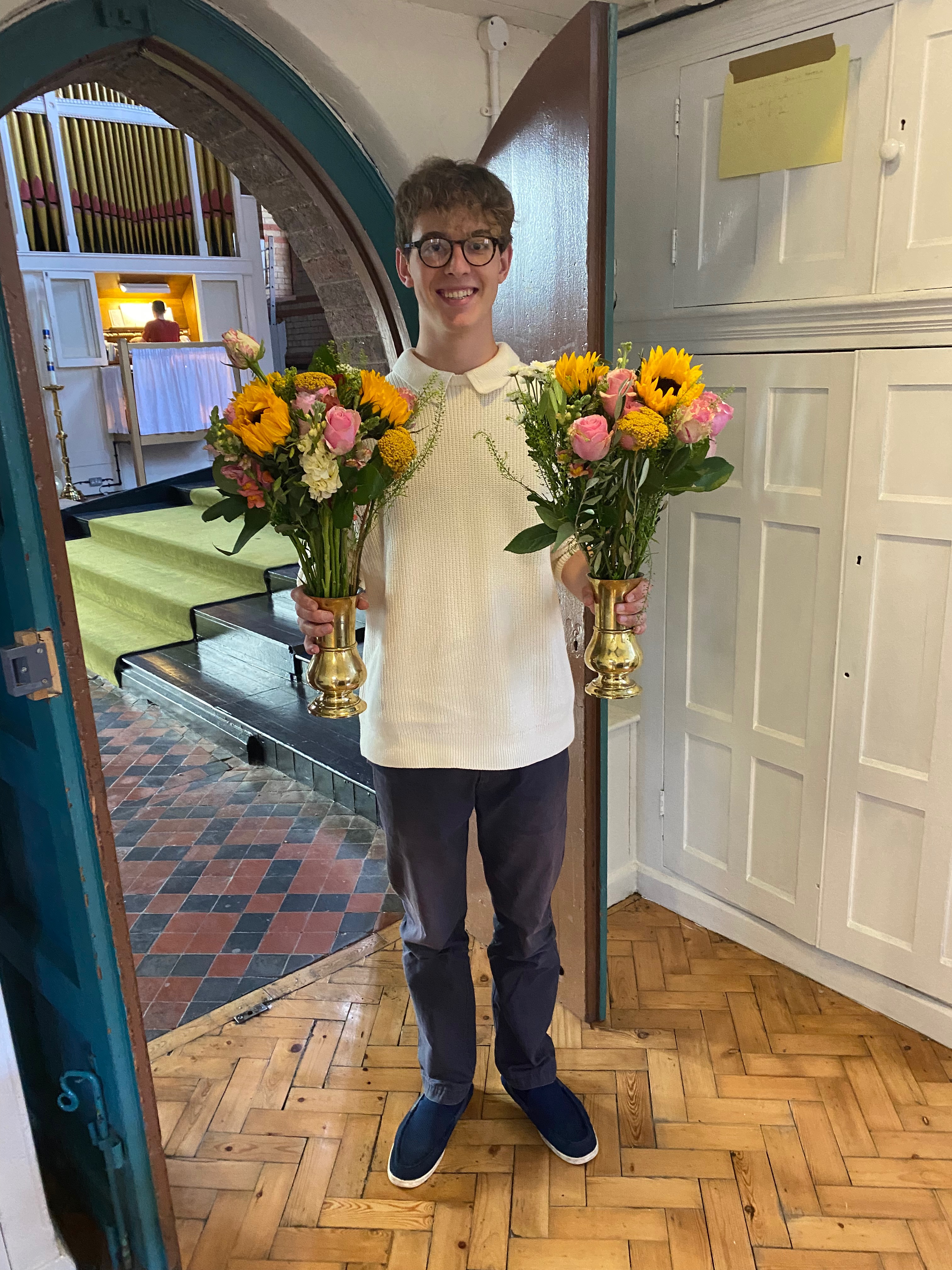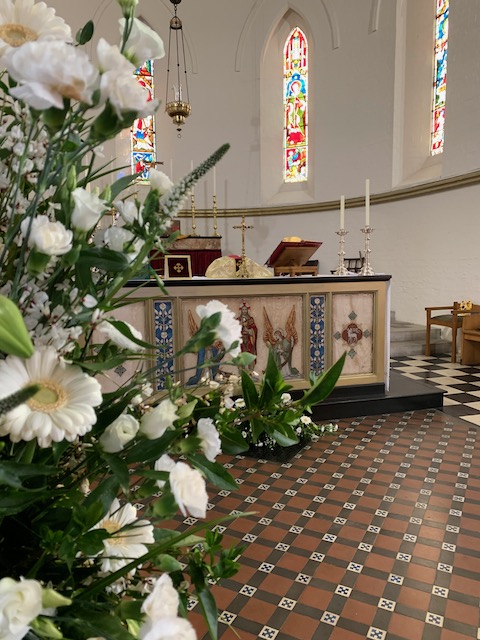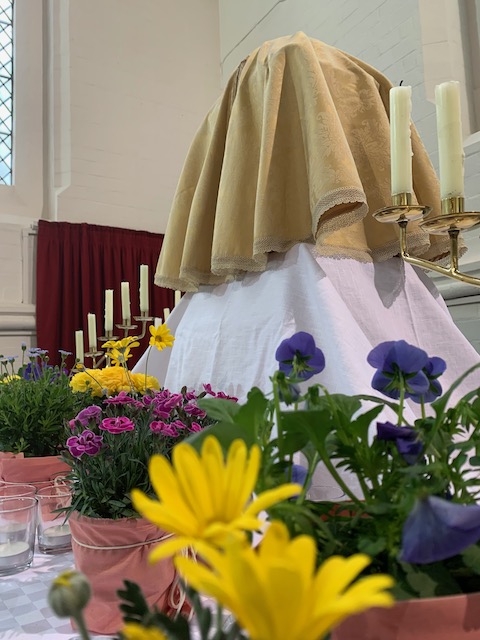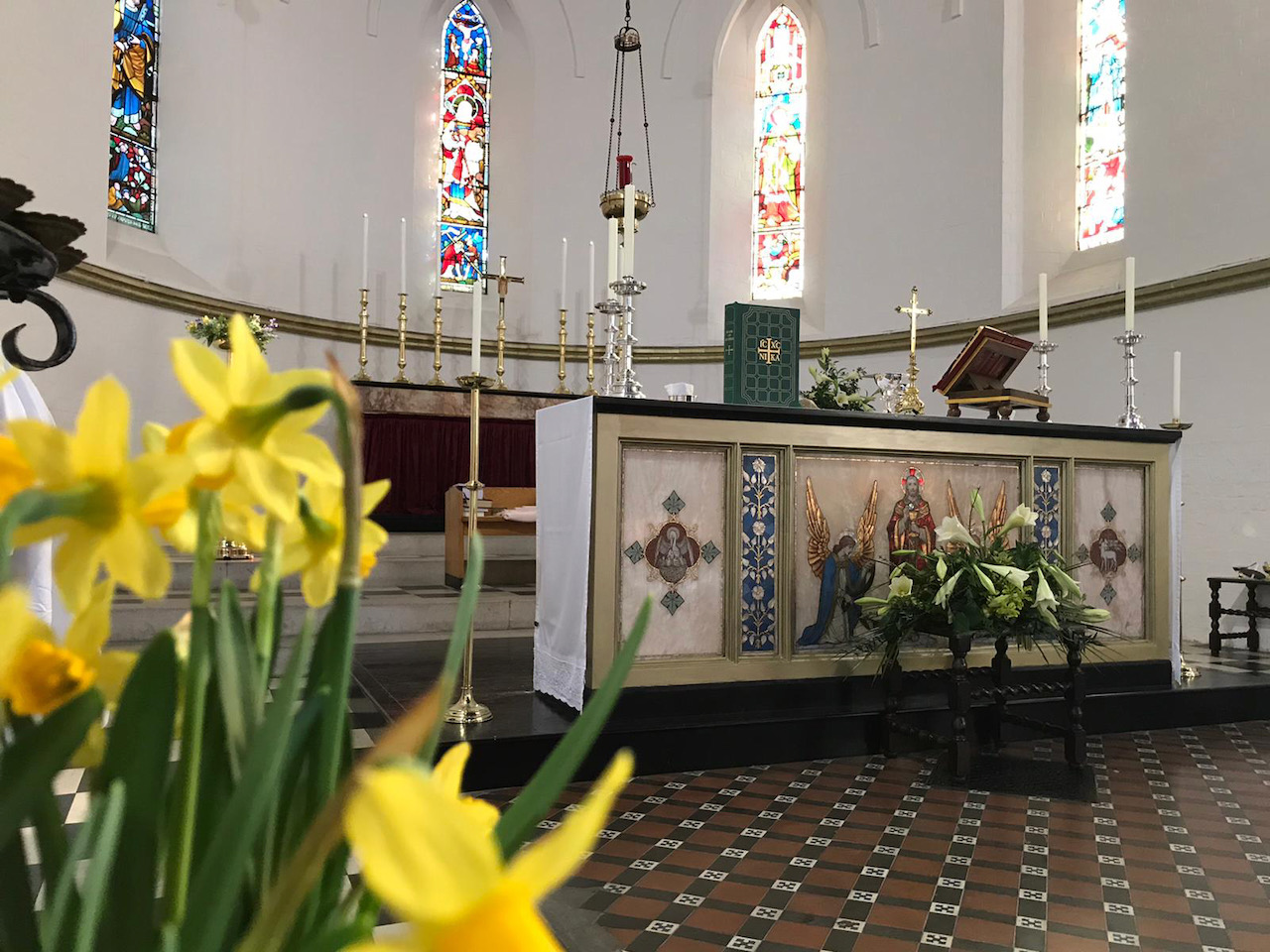 Choir Rehearsal No. 1 on Wednesday 22nd March!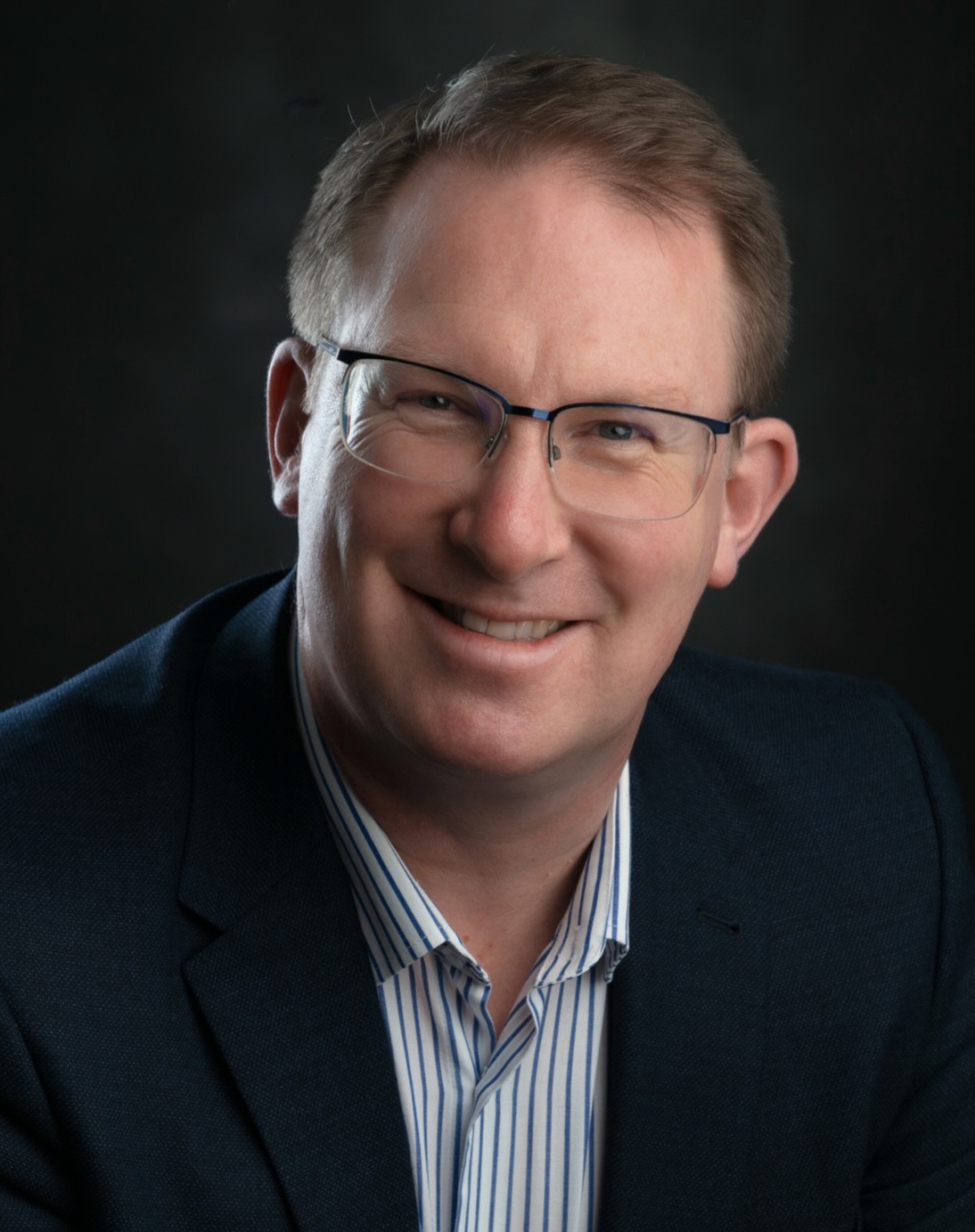 People of all abilities and experiences are welcome to join.
You do not have to be able to read sheet music.
Each voice will be supported by a professional singer you can follow and 'hang on to' – making things both stable and easier. This also means that the project cannot fail, the professionals will carry everybody along.
I am delighted that Leicester based musician, teacher, singer, organist, pianist and conductor John Gull has accepted leading this project at St Andrew's.
The three rehearsals are (you need to able to firmly commit to at least two of those):
Wednesday 22nd March, 7pm – 8.30pm
Wednesday 29th March, 7pm – 8.30pm
Wednesday in Holy Week, 5th April, 7pm – 8.30pm
On Easter Sunday 9th April the project choir will sing during the 10.30am Festival Mass at St Andrew's.
Interested in taking part? Talk to me! And do turn up on Wednesday, 22nd March at 7pm.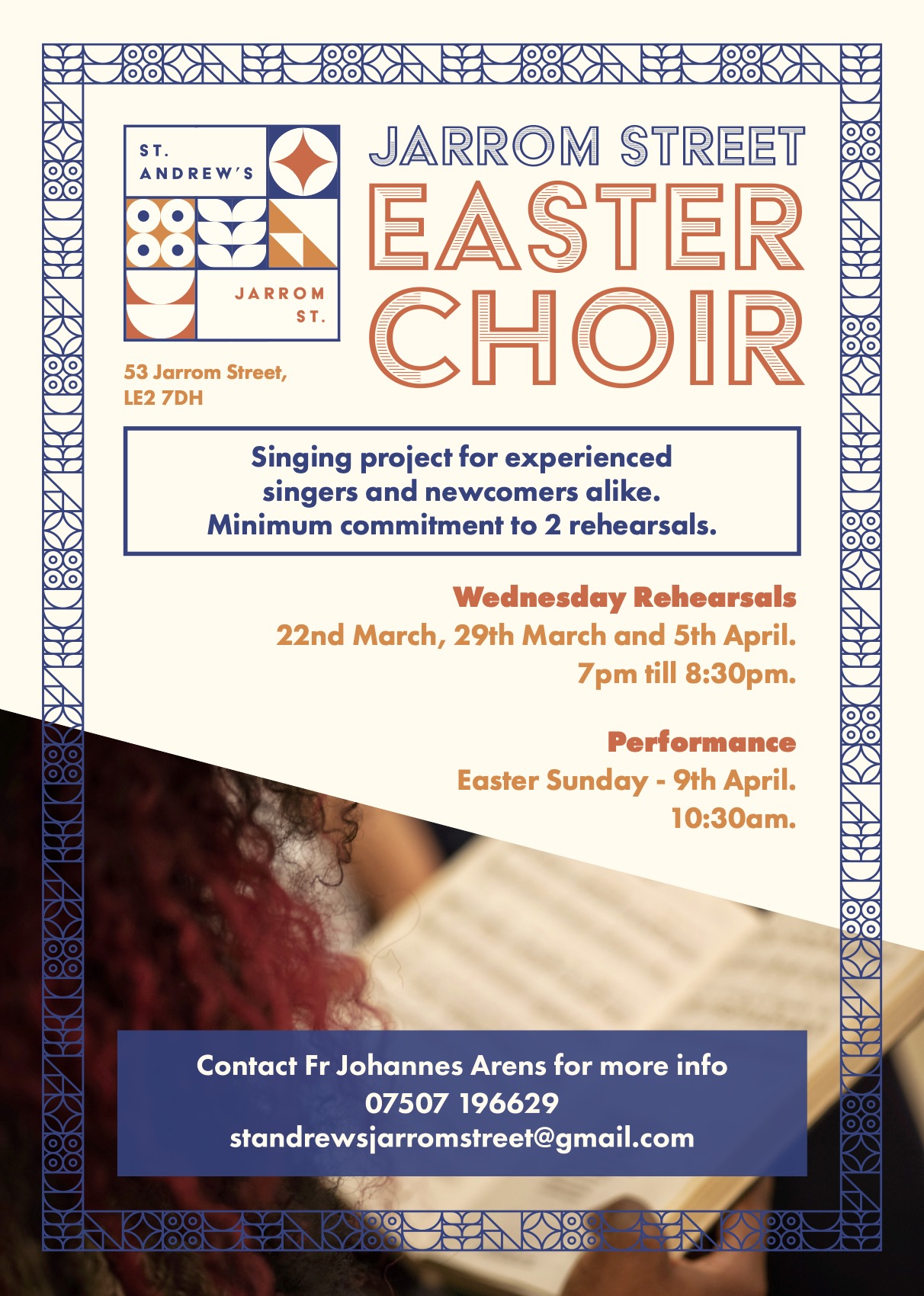 Walking Group
Mick McQuaid has been organising many walks to interesting churches (and pubs!) over the past years and is doing another walk soon:
I am delighted to invite you to join me on our first event in the 2023 season, a 3 in 1 visit and walk from Stonton Wyville to Cranoe via Glooston on Thursday 30 March 2023, a total distance of 2 miles which can be extended for the more athletic walkers.
The event will start with lunch at The Crown Inn, Main St, Tur Langton, Leicester LE8 0PJ where we will meet at 12.00 noon. At around 1.15 pm we will drive to Stonton Wyville and visit St Deny's Church. St Denys is a very small church and our visit may only last 30 minutes before we set off to walk 1 mile to Glooston. There we will visit St John the Baptist Church. Again the church is small and the visit will not be lengthy and when we leave we will walk another 1 mile to visit St Michaels Church at Cranoe. Ann Aldridge, Cranoe PCC Secretary, has kindly offered to join us on our walk and is liaising with her friends at the other two churches on our behalf.
This event is a pick and mix, join us for the bits that interest you. There is street parking at both Stonton Wyville and Glooston but very limited parking at Cranoe. For those who wish to walk one way, Stonton Wyville to Cranoe, we can park one or two cars at Cranoe and their owners can then ferry others back to their parked cars at either Stonton Wyville or Glooston.
I have been in touch with The Crown at Tur Langton, they did not request that we pre-order but you might like to peruse their menu before our visit so that you can quickly place your lunch order upon arrival. Please click here to see the menu.
Please let me know if you plan to join me for any or all parts of this event.
Mick McQuaid