This is not Part 3 of 'The Beauty of Holiness' but an interim report as so much is happening at the moment – which may surprise you, as the church unfortunately still has to remain closed. Small changes add up to big differences and as quite a few people got in touch expressing that they are pleased with how the care for the church expresses our love for God, I thought I post some pictures and explanations. Dante Alighieri said that 'Beauty awakens the soul to act' – and looking back over the past few weeks of lockdown I am aware that there is a lot of action happening involving an increasing number of people.
Four of us are living together in one household and my family seems happy enough to help with the celebration, serving, singing and live-streaming on Sundays – so far nobody got hurt or hit with the thurible.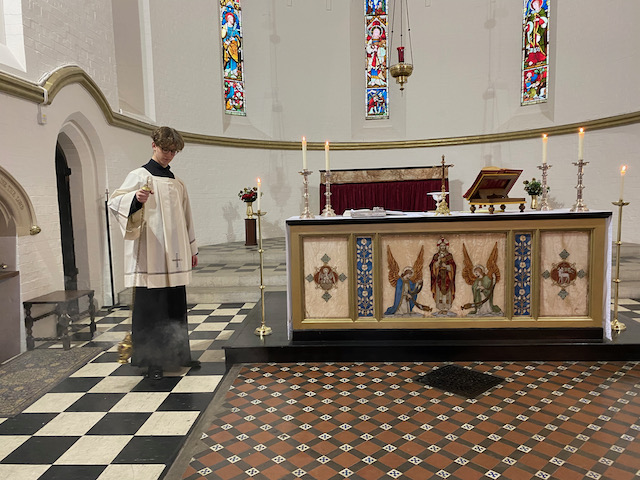 I wrote previously that Matt took out the old aumbry in the Lady Chapel which has not been working for a long time and is building a new steel box. The old door can be reused and I am delighted to have found the old keys – which are in itself rather lovely keys as far as keys go.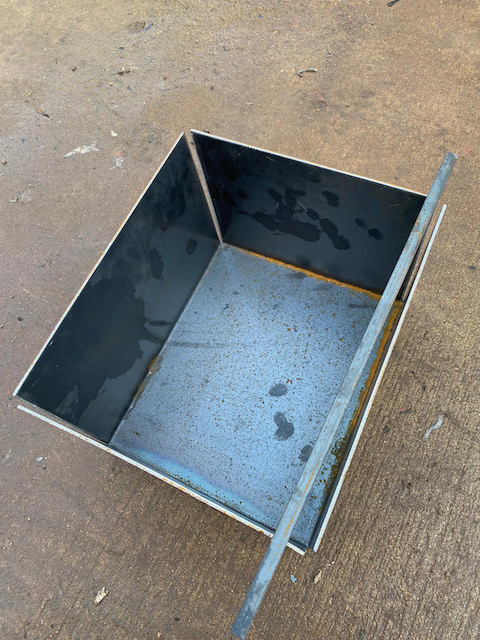 Looking closely at old photos of the Lady Chapel I noticed that the wooden relief which used to be part of arrangement still exists, and so I put it back for the time being – obviously this is not a proper installation. The writing on it says MR with a crown on top – standing for the Latin Maria Regina – Mary, Queen (of Heaven).

Rummaging through cupboards I found a rather beautiful baptism shell which was unfortunately broken. As these things happen (and I don't think this is coincidence) the manager of Pragnell Jewellers in Market Street parks his car at St Andrew's, and he offered to repair it for a nominal sum (which a lovely person immediately donated). It is back in St Andrew's and will hopefully see a lot of use in coming years!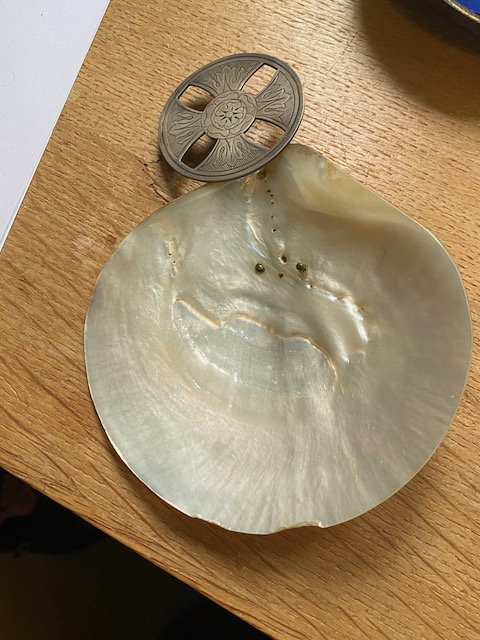 Meanwhile the cleaning and polishing of brass items is progressing and fortunately a number of people offered to have a go at things at home. These are not quick and easy jobs but take quite a while. I show photos of the results when things are back on site – in the meantime my happy face will convince you of the joy this job brings! (Offers of help are still gladly received! 😁)
A bigger operation has been continuing last week – Tony, Brian and I removed the final bit of 'dark white' carpet around the organ. The wood underneath is in fairly good condition and ideally it will be restored in the same way as the floor further east which was done in January. The red curtains round the organ bench were beyond restoration and Elizabeth is making new ones and has also been mending various pieces of liturgical linen. The floor restoration will take a while – watch this space!
As always, I hope you find these updates about small things adding up to big changes encouraging. If you wonder how to get involved and help please get in touch!
Fr Johannes