The Blessed Sacrament gets reserved in churches for practical and devotional reasons. Those who visit the sick and dying can take consecrated hosts on their visits without delay. At the moment reservation is especially useful indeed as nobody touches the contents during the week – that means if I disinfect my hands before distribution this is a very covid safe way of receiving communion.
The Sacrament is usually reserved in a special locked box – if the box is set within a wall it is called an aumbry, whereas a free-standing box (often on an altar) is called a tabernacle. It provides a focus for prayer: a white light burns near it all the time as a sign of Christ's presence in the consecrated elements. The only time during the year the aumbry is empty is after the liturgy of Good Friday: Communion is distributed and then the remaining Sacrament is consumed and the aumbry is left open with no candle burning – on Holy Saturday Jesus is in the grave and the church does not worship. At the Easter Vigil the Sacrament is again reserved in the aumbry after communion and the light is lit again.
The aumbry in the Lady Chapel (which is now restored) probably dates from around 1920 when the chapel was created in the time of Fr Leonard Matthew. This aumbry is now back in use for the time being.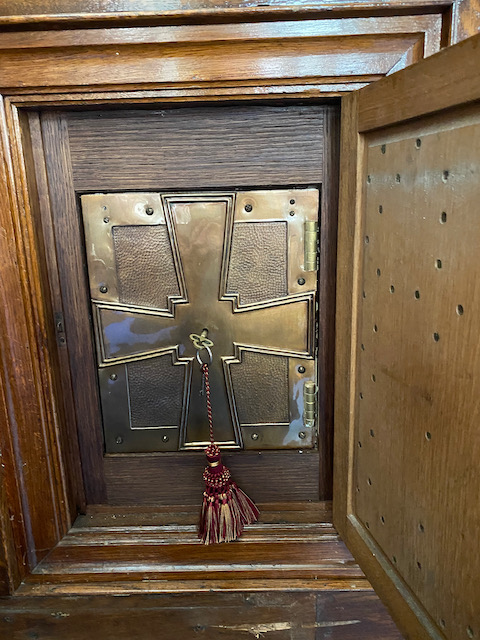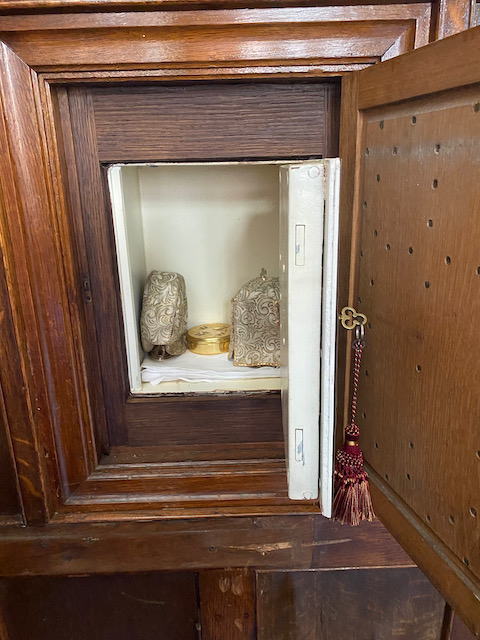 At a later stage the Sacrament was reserved in a tabernacle on the altar of the Lady Chapel and the aumbry in the wall fell out of use. My guess is that they wanted the place of reservation to be more visible than the rather hidden aumbry but were not allowed at the time to place a tabernacle on the main altar of the church – which would have been the standard in our tradition. The visibility of a tabernacle and it taking central stage was resisted by church authorities for most of the 20th century – not many Anglican churches managed to put a tabernacle on their central altar. My guess is that Fr Bernard tried to do the best he got away with.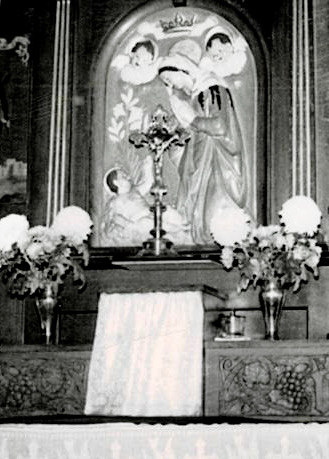 Nowadays this is no longer an issue, so I am delighted that as part of the re-arrangement of pews and altar it will be possible to install a tabernacle central stage on the main altar. Kevin Yates has been working on it and is using the design of the High Altar as an inspiration for his design. The floral panels will be either side of the tabernacle as the front is covered by a curtain – thus it would be impossible to see them.
I am extremely pleased with his progress and I am delighted that the design of the altar will be mirrored by the design of the tabernacle on top.