On Saturday 17th we entered the time of the O-Antiphons – the last days before Christmas have specific antiphons for each day for the Magnificat at Evening Prayer. Today this is
O Root of Jesse, standing as a sign among the peoples;
before you kings will shut their mouths,
to you the nations will make their prayer:
Come and deliver us, and delay no longer.
These antiphons for each day are quite lovely – the author imagines to view the birth of Jesus from the perspective of before the birth of Christ – looking at Christmas and the coming of the Messiah from an Old Testament perspective. If you want to know more have a look at the website of the priest and poet Malcom Guite, he has written poetry around the Advent Antiphons and published them here.
The Cold, the heating and the Frozen Ones…
During the early Mass on Friday I noticed water dripping from the heating and a burst pipe. The last thing I wanted to happen was the heating to die during the cold spell (which would cause no end of trouble to the building during the extreme temperatures) but also with Christmas looming the prospect of no heating got me into a state of mild panic. Luckily Tom, our rather wonderful heating engineer, managed to be here at 8am on Saturday morning and fixed the problem.
The heating is on a timer and gets going at 6am on a Sunday morning. Its capacity is limited and the building is big – these two things don't go together well when it is -6 degrees outside. Due to the repairs the timer was off so the heating didn't come on until I switched it on manually at 8.30am, my sincere apologies to all those who were cold on Sunday morning. The Christmas weather looks a lot milder and I hope the building will be pleasantly warm – or at least not bitterly cold.
Lots of Music!
It was great to have a full church several tines for musical and meditative events over the past two weeks. Leicestershire Chorale had a very successful concert on Saturday 10th December, the DMU Carol Service was hosted by St Andrew's and the Advent Meditation happened on Saturday 17th with contributions from a number of members of the congregation.
The new service pattern of celebrating Compline & Benediction on the first Sunday of the month (not on 1st January!) seems to work really well and feels completely delightful. We shall carry on with doing those from February onwards (Sunday 5th February, 7pm). The service contains a decent chunk of complete silence – something which even in our tradition is often lacking. The social part in the pub afterwards also feels integral – those who 'thirst after righteousness' have a chance to talk and get to know each other a bit better. This service is rapidly becoming something I am very much looking forward to.
I am looking forward to Christmas Eve which features a quintet of upper voices – something we have not yet had at St Andrew's.
Get our building ready for Baby Jesus!
Let's decorate the church! Thursday 22nd December, 4pm to 7pm
Please give us a hand to decorate the tree and the rest of the church and get everything ready for Christmas! Obviously some serious work needs doing, but this is an occasion for all the family. I can also promise an abundance of mince pies for this one!
If you are able to bring some laurel, fir, rosemary or any other garden greenery of at least 12 inches length (that is about 30cm, the length of a ruler) this would be most welcome.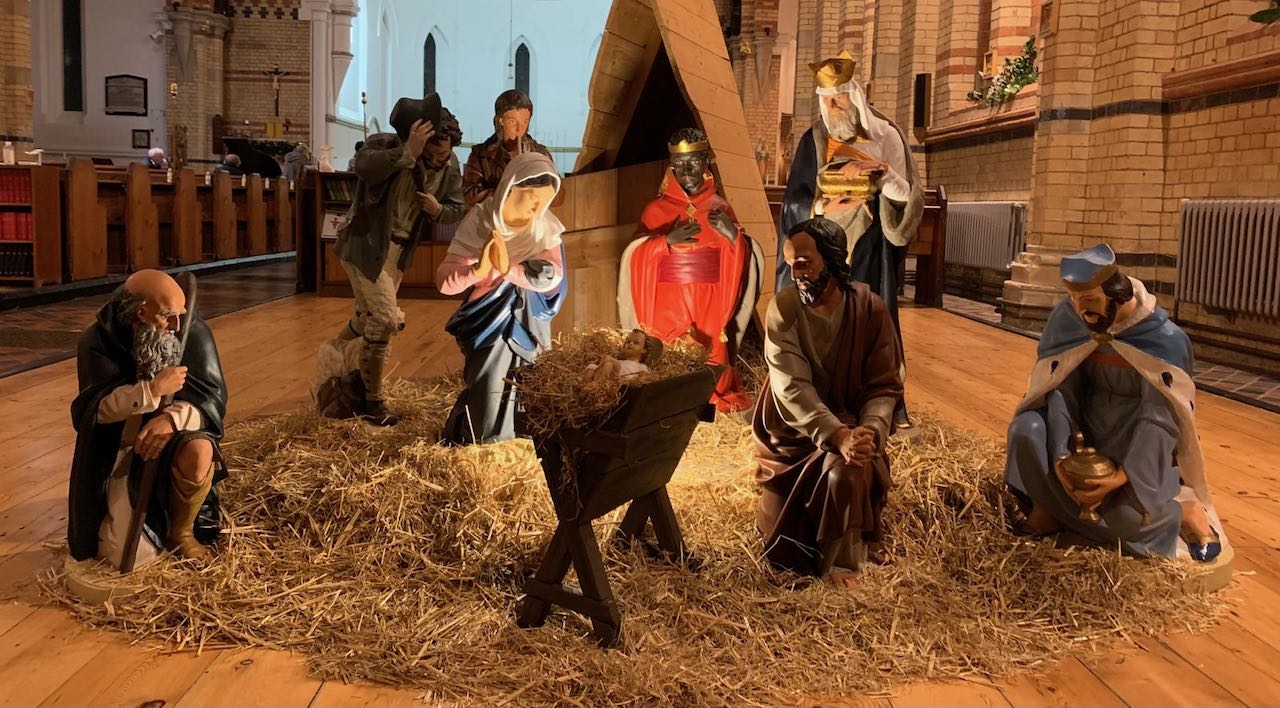 EVENTS & SERVICES
Carols, Beer & Christmas Cheer!
Wednesday 21st December, 7.30pm in the Sir Robert Peel Pub
Please join us for your favourite carols with a drink around the piano in the Sir Robert Peel on Jarrom Street. Christmas jumpers and hats are particularly welcome!
Christmas Service Schedule:
Christmas Eve, Saturday 24th December, 6pm: 1st Mass of Christmas with Choir
This is a full choral Mass for Christmas, not a service specifically designed for children. Nevertheless, it's sufficiently short and varied to be suitable for all the family. The service should be over by around 7pm and is followed by a glass of celebratory Prosecco (or alcohol-free Nosecco).
Midnight Mass @
St Mary de Castro, Castle View, Leicester LE1 5WH

, 11.30pm

You are most welcome to join St Mary's congregation for their Midnight Mass with choir. They are keen for people able to support their choir for the night – please have a word with me if you would like to sing!
Christmas Day, Sunday 25th December, 10.30am: Mass of Christmas Day
Please join us for the Solemn High Mass of Christmas Day. As everybody wants to open their presents there won't be any hospitality offered after Mass.
New Years Day, 1st January, 2023, 10.30am: Mass of Mary, Mother of God
The days following Christmas are crowded with feasts and celebrations – as a parish with a particular devotion to Our Lady we keep the feast of the Θεοτόκος – the Mother of God or the God-bearer.