Something I am very keen on is the missional quality of Beauty. Beauty is attractive and speaks of God, as God is beautiful. St Andrew's is a wonderful building with many beautiful things, which need looking after in order to speak loudly about God. Even if a sense of beauty is highly individual and a matter of taste, caring about something always makes a positive impression. Following my last post about brass items and how much better they look when they are shiny, a number of lovely people allowed themselves to be volunteered and are having a go at polishing things at home. I envisage that by Easter all sorts of smaller and larger items will look absolutely glorious.
In the meantime a number of things have happened. Small changes add up to big changes over time!
The North Transept – St John's Chapel
The two side chapels were originally used for seating children during services, but sometime between 1921 and 1945 they were dedicated as chapels. The North Chapel has apparently been dedicated to St John – even though there is no St John depicted anywhere. Does anybody know why this happened? I am curious about this, and I wonder whether the dedication is the right one. There is a statue of the Sacred Heart of Jesus – but that's currently not the dedication of the chapel. Elizabeth Amias (who is a historian) has done some research into the history of St Andrew's, but she has not yet found out too much about the story of the dedication of the chapels. 
Angie Fox (who is married to Bishop Peter Fox, one of the retired Assistant Bishops in the diocese) is an expert in these things and has carefully restored the altar frontal to its former glory. It's very old and has been constructed from pieces of even older materials. She has done a wonderful job – have a look at the detail in the picture!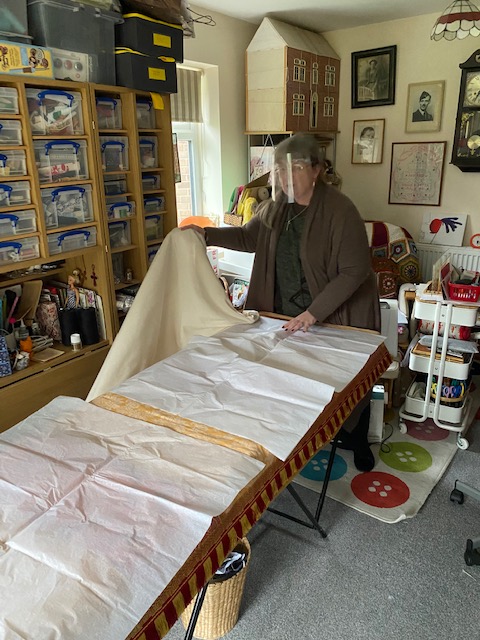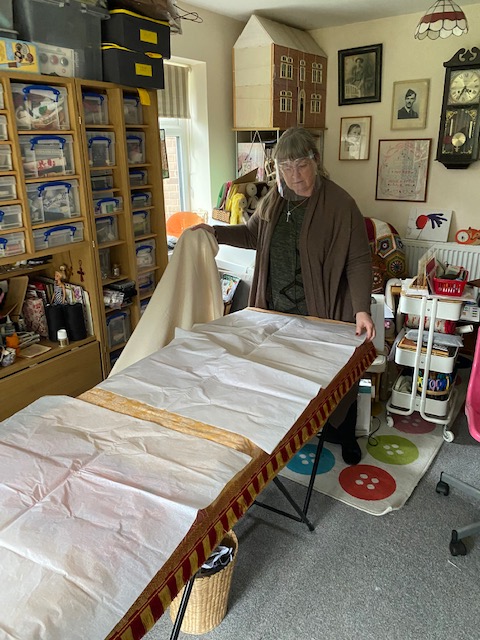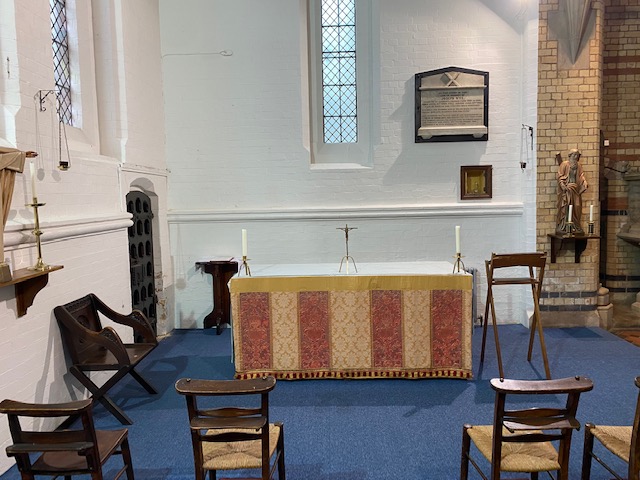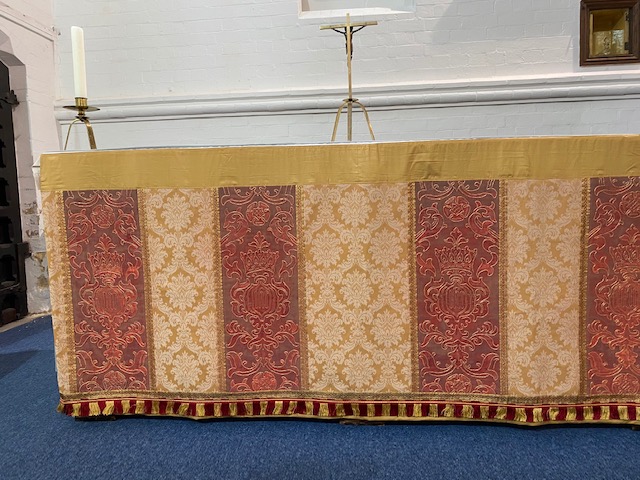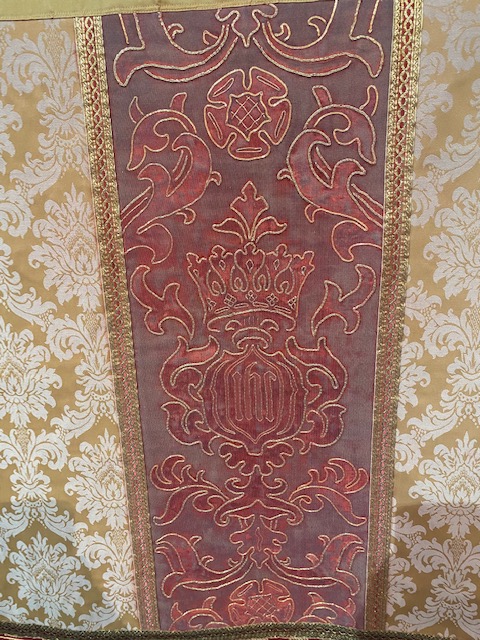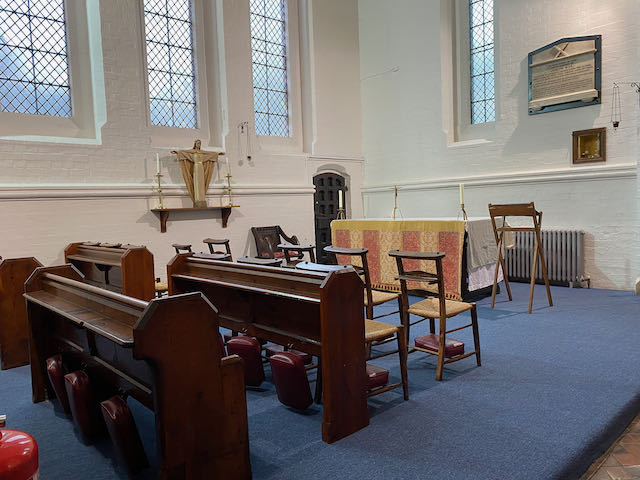 Amazingly, a superfrontal still exists (that's the bit which sits on top of the altar frontal – with Sanctus-Sanctus-Sanctus (Holy-Holy-Holy) written on it). It is rather delightful but sadly in very bad condition. I am exploring whether it could be restored as well (and whether that would be affordable).
Another job is to restore the oil stock in the wall behind the chapel altar. The metal door was painted gold and light blue and over the years got rusty. I am exploring how it can best be restored to its former beauty.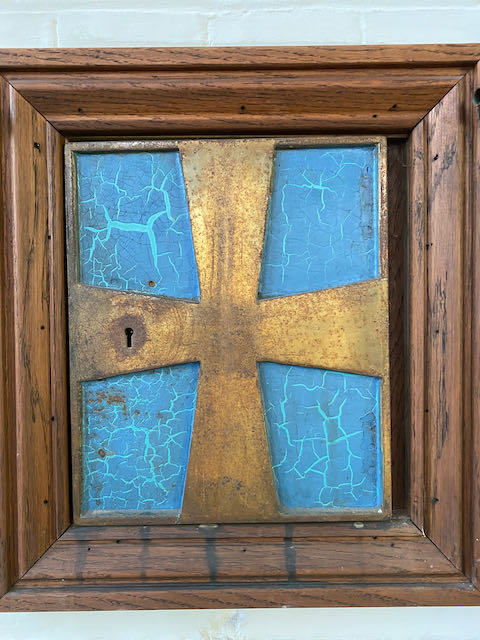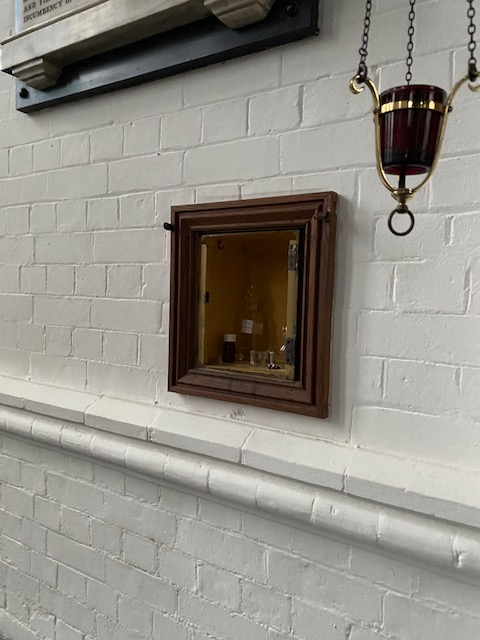 I hope you find it encouraging to see what is going on whilst the church has to be closed for public worship. If you like what you see and wonder how to help, please get in touch!
Next Sunday I will write part 2 – The Lady Chapel.
Fr Johannes