You may remember an earlier post about St John's Chapel and the restoration of the altar frontal by Angie Fox. https://www.standrewsjarromstreet.org/2021/02/07/the-beauty-of-holiness-part-1/
She has now taken apart and investigated the superfrontal (the bit on top the frontal with Sanctus-Sanctus-Sanctus written on). It is possibly part of the original fabric of the church from 1862 and unfortunately in very bad condition. If you click on the pictures you can see that the background material is ripped in many places and so fragile that it is beyond saving. However, the gold writing and the ornamentation is saveable and the whole item is restorable – and in my opinion will be rather beautiful. The red, gold and turquoise colours are mirrored in a number of places in the church.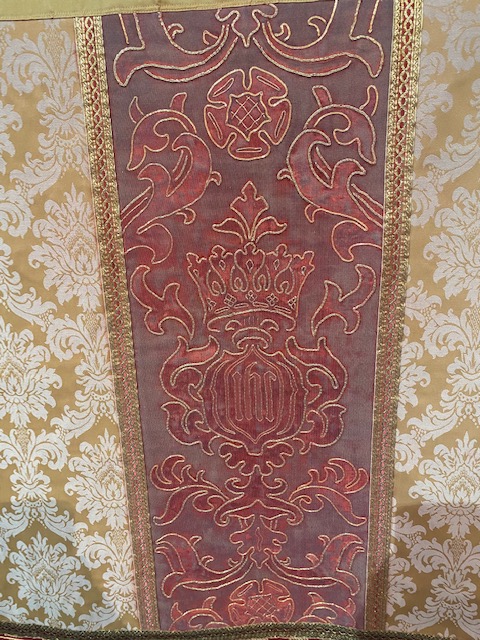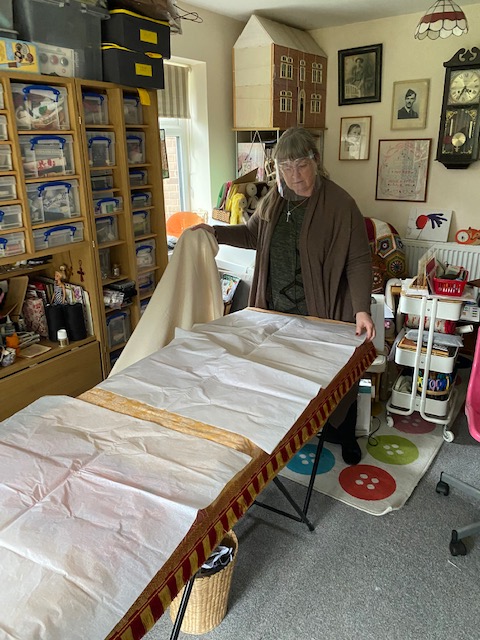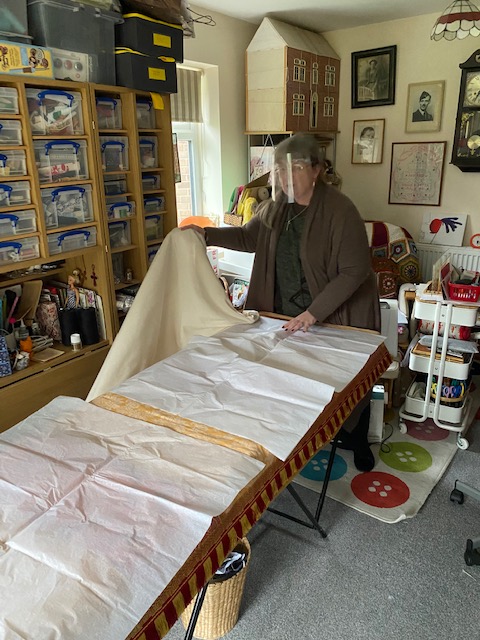 To my delight Angie is confident to be able to restore and reconstruct it for around £700. That is a lot of money, but it would be impossible to buy anything new of similar quality for that amount (which may surprise you).
Is this something you would enjoy to see restored and taken good care of? Could contributing to this be part of your Lent/Easter gift? If so, please get in touch and it is now possible to GiftAid your donation.
I am aware that this may not be everybody's priority and not everybody is able to contribute sums of money. Stewardship and ministry take very different forms and after Easter I will write more about different ways of being involved and offering support – both on site and from home, financially and in many other ways. You may enjoy adopting a flower bed or even discover the pleasure of cleaning something (which can be surprising fun with the right type of music and company). Alternatively, your skill, energy and joy may be in welcoming people. Watch this space!
I am looking forward to opening the church again on Maundy Thursday 7pm and I am looking forward to welcoming you again in person (if you feel safe enough to come).
Service Times for the Triduum Sacrum
Maundy Thursday, 1st April 7pm: Mass of the Last Supper followed by the Watch of the Passion until 9pm
Good Friday, 2nd April, 2pm (at St Mary de Castro Church LE1 5WH, NOT at St Andrew's): Liturgy of the Lord's Passion
Holy Saturday/Easter Eve, 3rd April, 7pm (at St Mary de Castro Church LE1 5WH, NOT at St Andrew's): Easter Vigil
Easter Sunday, 4th April, 10.30am: Solemn Mass of the Resurrection of Our Lord
Fr Johannes